SP11 SMS processor (7DIn,2AIn,8DOut,Datalogger,Li-ION,8-30V)
GSM-SP11 is industrial SMS processor for remote controling and monitoring using GSM network.
Features:
— datalogger
— 7DIn
— 2AIn ( 0-20mA, 0-10V, KTY, Pt100, Pt1000 )
— 8DOut
— Li-ION accumulator
— power 8-30V DC
Retail price
Price on request
Wholesale price
Price on request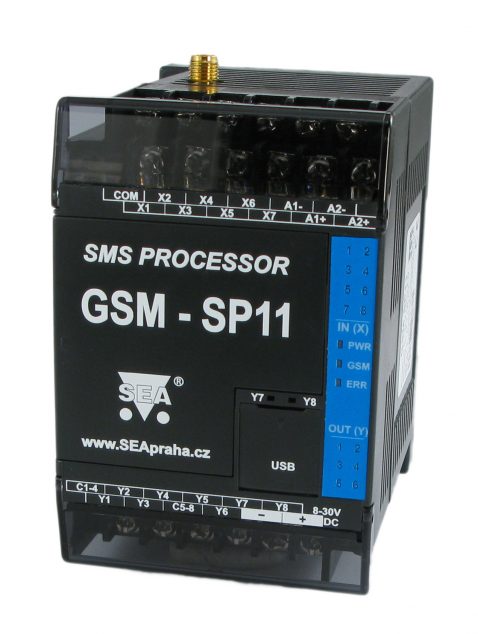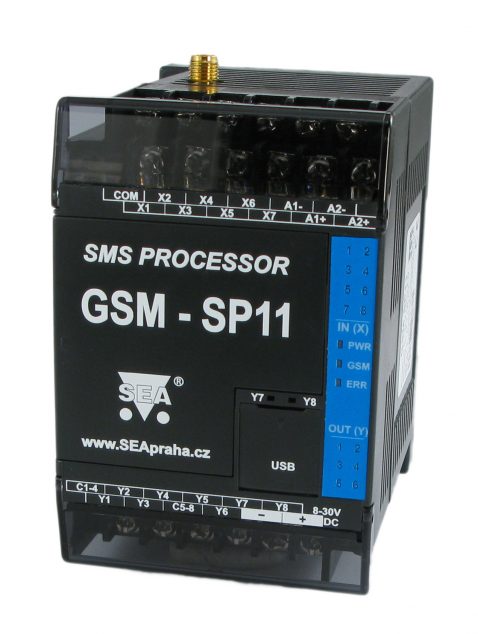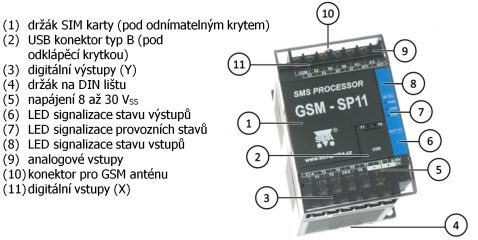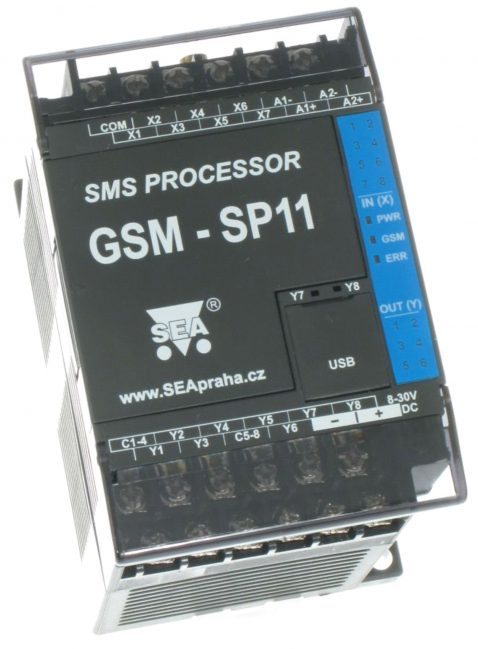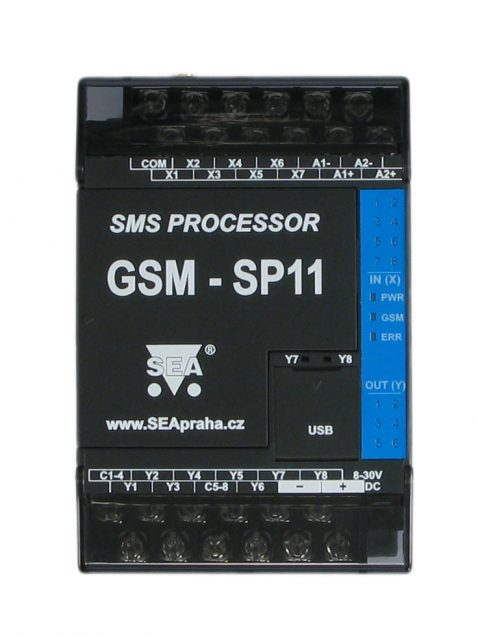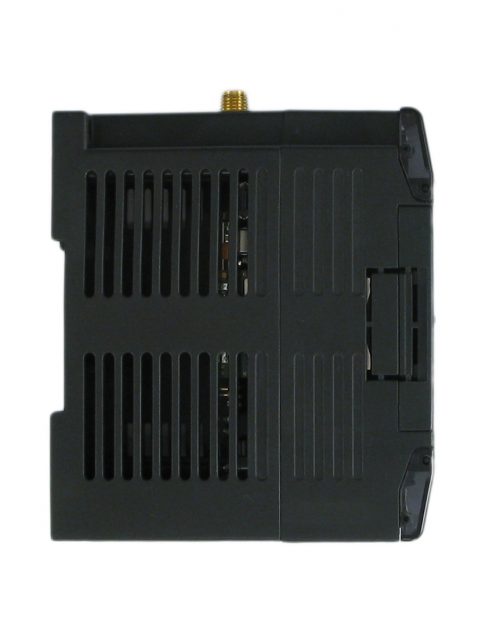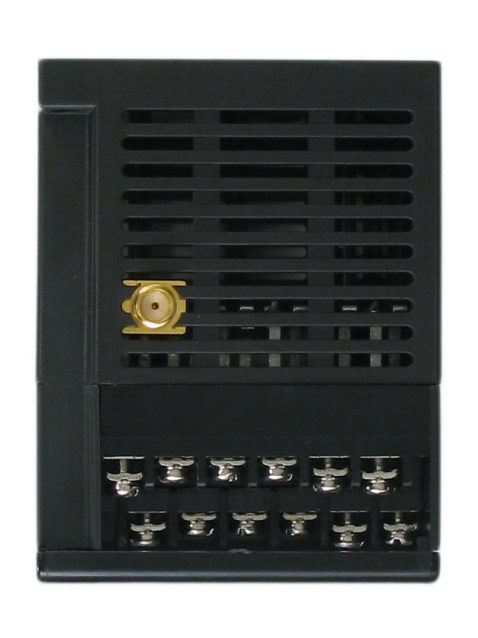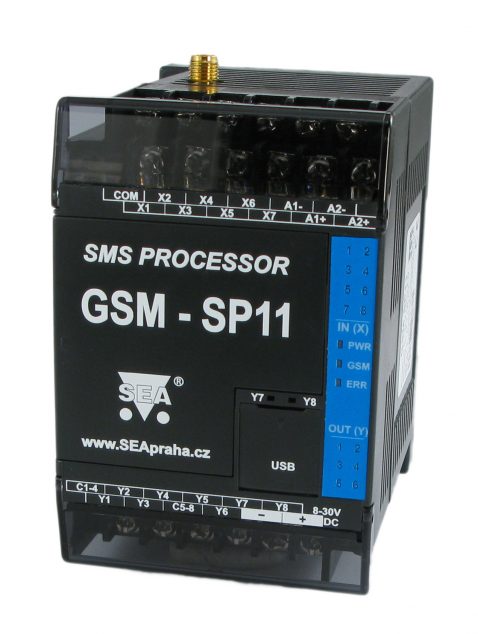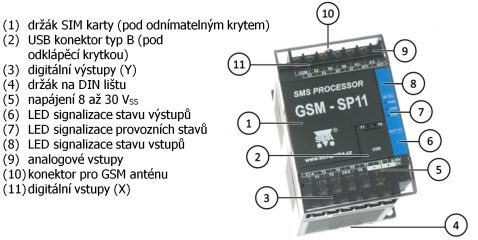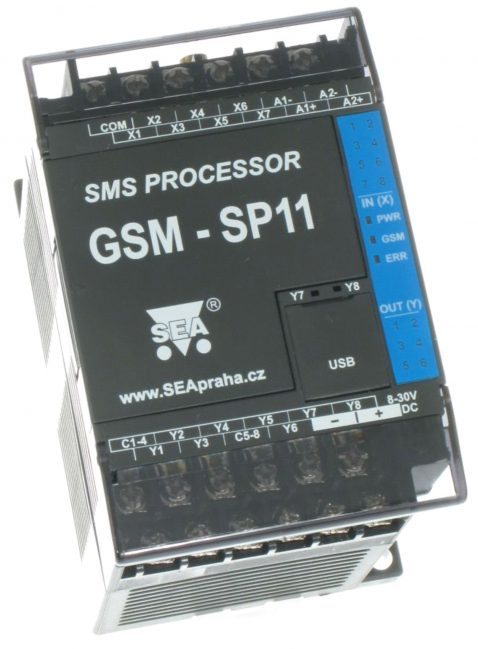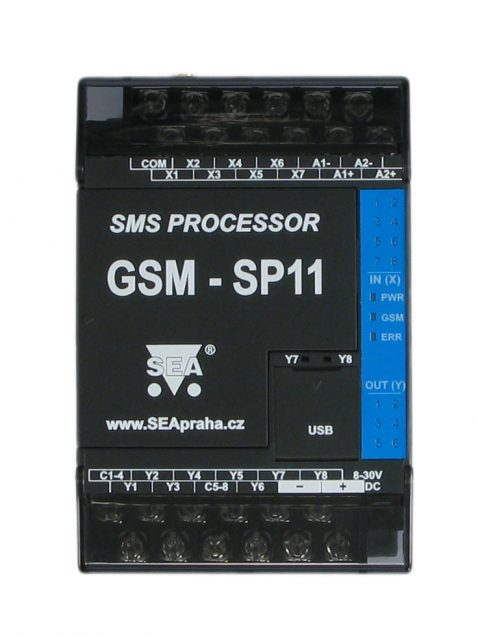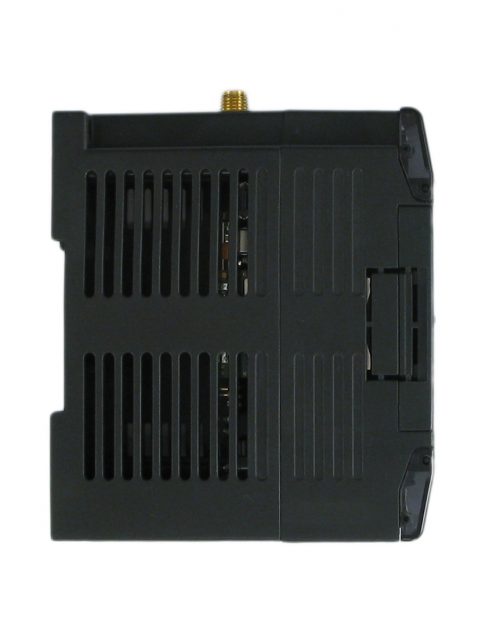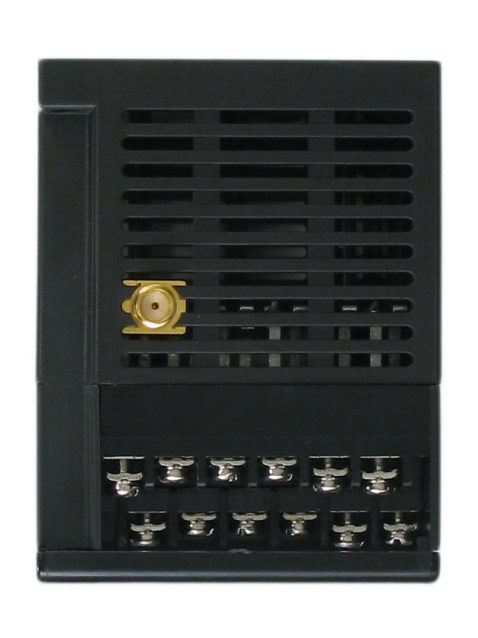 Product description

Technical specification

Commercial packaging

Accessories

Support
Product description
GSM-SP11 is a powerful remote control and monitoring device. It enables to monitor digital and analog inputs status and to control outputs via GSM network. SP11 can control via SMS messages or GPRS connection. SMS messages can be sent or received on any GSM device (for example the owner´s or maitenance mobile phone, PC in control room with GSM modem).  The behavior of a device and names of inputs and outputs are in SMS version fully selectable via USB cable or remotely (GPRS) using supplied configuration software. The defined emergency conditions may result in sending a SMS message to the list of telephone numbers (boiler failure, gas leakage, rapid drop or rise of temperature or level) including information about the failure and restoration of power supply.
The current status of the device and its properties can be monitored and changed using the "Monitoring" function, which is standard equipment of the device and works via a local connection via USB or remotely via a GSM modem and data connection.
The device has a built-in Li-Ion backup battery, thanks to which it allows monitoring and control of inputs / outputs even during a main power failure.
Continuous monitoring
It is a function in which GPRS connection is used to monitor whether the GSM-SP11 is connected to the GSM network.
In the configuration it is possible to turn on how often the device should be monitored by our server (for example once a minute) and after what time (for example after five minutes) is sent an email to the user with the message "Station not monitored". This means, for example, a GSM signal jammer, a failure of the GSM network at the operator side and similar situation – in short, if at this time the GSM-SP11 should send an alarm, but it can not, because the intruder destroyed it or simply GSM can not work.
Datalogger
SP11 can save (log) detailed information about input/output signals or received/send SMS messages. User can set up which information will be saved to log file during configuration of SP11 via program SeaConfigurator.
Counter
The device contains a built-in pulse counter. The principle of the counter lies in its ability to count the number of pulses at the input or output terminals, record them and convert them to specific values, such as kWh or litres. For example, you can calculate the number of switching on/off the pump, operating hours or consumption from electricity meters and water meters. Multiple counters can be set for each input or output and the cycle setting allows the counters to be reset. When a certain number of pulses is reached or at the end of the cycle, alarm message can be sent, for example via SMS.
Versions
| | | | | | | |
| --- | --- | --- | --- | --- | --- | --- |
| Order code | I/O | Datalogger | dimensions W x H x D [mm] | Download file | MC price w/o VAT | VC price w/o VAT |
| GSM-SP11 | 7DIn, 2AIn, 8DOut | YES | 60x90x80 60x90x53*1) | see Support | Call and ask | Call and ask |
| GSM-SP11B | 7DIn, 2AIn, 8DOut | NO | 60x90x8060x90x53*1) | see Support | Call and ask | Call and ask |
*1) It's possible to rebuild the box for a certain fee.
Advantages
Simple installation – The device is delivered with a frame for mounting onto DIN rail.
Easy monitoring – just send a SMS message "1234 STATE" to receive a message about the state of the device inputs and outputs.
Configuration and Monitoring SW – user friendly PC SW works either locally via USB port or remotely using GPRS.
Backup power – backup Li-ION battery enables alert on 230 VAC failure.
The "Alive" function – an event from the schedule allows you to regularly inform that the device is functional.
Battery charge information – in status message and in macro.
"Domino" system – event notification for multiple users ends with the reaction of the first of them.
A built-in pulse counter
Use
Boiler houses, heating plants and heat pumps – remote control, monitoring, fault report
Industrial objects – water plants, water reservoirs, small hydroelectric stations, boiler plants
Technology processes – fault report, gas leakage, drop or rise of temperature or level, freezing point monitoring.
Electricity meters and water meters – consumption reading
Configuration sw
For configuration of GSM-SP11 is used sw SeaConfigurator (full version can be downloaded for free in the section support).
Setup and monitoring (configuration and monitoring sw)
The program SeaConfigurator is used for configuration. This software for PC provides connection either using USB cable or remotely using GPRS. The software is free to download and without any restrictions.
Controlling from your phone
Android and iOS applications
For the functionality of the CML application, it is necessary to have an activated data tariff on the SIM card, which is inserted in the device. Transferred data can be charged by the operator according to the tariff agreed by you.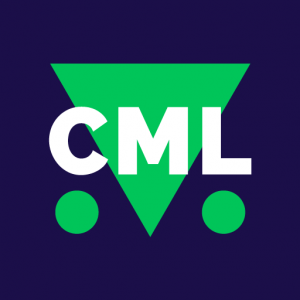 To simplify and conveniently manage your devices from a range of GSM applications, we have developed an application for Android smartphones and iOS (Apple). This application is free of charge.
This app only serves to simplify control. It is not a condition for control. If you do not have an Android phone, you can control the device via SMS or ringing.
You can download this application from  Google Play or Apple Store for free, type into search "CML SEA". After installing the application, make the first registration, take a photo of the QR code of the device into the "paring code". The QR code you find in the GSM-SP11 package.

https://play.google.com/store/apps/details?id=cz.seapraha.cml

https://apps.apple.com/app/id1511530045
On-line Data on a website
You can monitor the measured values, including the history, and display them clearly on the cml.seapraha.cz website. You can also control the outputs or set up e-mails with alarm messages directly from the website.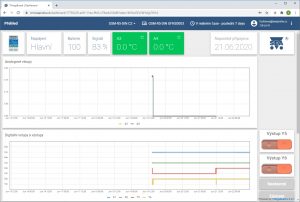 Technical specification
Power supply:     

8 – 30 V

DC

 (max. 0.5 A / 12 V

DC

, average consumption 2.5 W)

Accumulator:

Li-Ion

Digitital input:

7 inputs (8 – 30 V

DC

); galvanically separated (one common terminal)

Analog input:

2 selectable as: current (0-20 mA), voltage (0-10 V), temperature (for sensors type KTY, Pt100, Pt1000)

Digital output:

8 outputs (100 mA/50 V

DC

 or 70 mA/35 V

AC

), galvanically separated

Ports: 

USB 2.0 for programming and monitoring

GSM:

850/900/1800/1900 MHz

operating temperature:

-20 to +45°C

dimensions:

width 60 mm x height 90 mm x depth 80 mm (53 mm) **) (width without GSM antenna, depth from DIN rail)

weight

211g
*) See the manual for technical details.
**) It's possible to exchange the box for a certain fee.