About our company
Company SEA spol. s.r.o. was founded in 1992 as a Czech private company without the participation of foreign capital. We specialize on development, production and distribution of electronics mainly in field of GSM applications.
We offer our customers high-tech services and products that match the latest trends in electronics. There is a team of specialists with years of experience in the field. Thanks to our own development department, the company also offers the possibility of customized solutions that meet the individual requirements of individual customers.
You can find the presentation of our company here.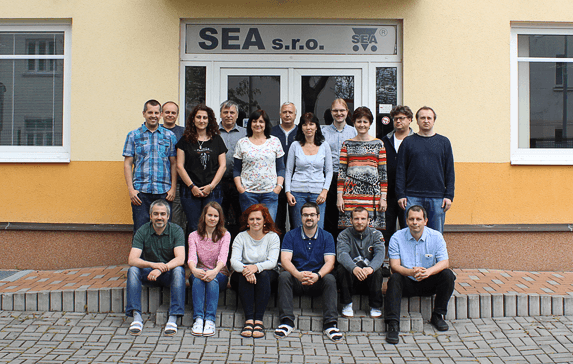 We are on the
market for more
than 25 years
We have our own
SW a HW
development
We provide
all service
and support
In 2020 we have 19 employees, our main activities are:
Development and production of devices for remote control and monitoring of GSM networks
Development and production of electronics(own or as reqired), including design of PCB, assembly, testing and SW development
Production and distribution of GSM modems (2G, 3G, 4G a LTE), distribution of GSM routers Robustel.
Exclusive distributor of PLC FATEK in the Czech Republic, Slovakia and Germany, including technical support, programming and training.
Custom machine production - milling and laser engraving of nameplates, instrumentation boxes, faces and panels, technical labels.
Development and production of IoT devices – GSM outlet, Wirele®
Company history
1992
The comapany was established.
With four employees the beginnings were geared specifically towards designing of printed circuits boards. Other activities were gradually added, such as constructing and activating printed circuit boards and the manufacture of simple electronic units. Further became direct import of connectors, optical electronics and some automation items a s PLCs from Taiwan – in the latter case not only for sale purposes but primarily to be used for the company's own manufacturing activities.
1994
Start in the area of development and manufacturing of electronics for transport industry – it is mainly traffic warning lights, flashing arrows and safety systems on roads and motorways.
1997
Company began focusing on utilizing GSM networks. The applications for the technical use of GSM networks became company's primary business program very rapidly.
2000
The growing volume of development in the area of equipment for the technical utilization of GSM networks, namely in the area of SW for microprocessor systems, and also the subsequent manufacture and completion of equipment required another increase in the number of employees and consequently the need for larger premises. Since May of 2000, the headquarters has been at new premises in Prague – Hostivar.
2003
We've obtained the certificate ISO9001:2001. Thanks to long-term experience in developement and production of GSM applications we became an official distributor of GSM modules Siemens (Cinterion). Also we started a cooperation with a Swedish company ELFA, which is one of the biggest electronic suppliers in Sweden.
2005
The developement and production of GSM product was extended by area GPS – location tracking.
2009
The construction of a new  SEA building was successfully completed. It will enable further  growth of the company and improvement of production and sales premises.
2010
As part of the expansion of offered services and the acceleration of its own production, the company purchased a SMD pick-up machine and a IBL vapor phase.
2011
Complete line for SMD assembly was put into operation – automatic stencil printer PBT FA23, vapor soldering IBL, automatic optical inspection Marantz and washing machine Miniclean.
2012
In September 2012, we celebrated 20 years of SEA on the market.
2013
The company exhibited at AMPER 2013 in Brno.
2015
The company has received a B+ rating and is rated as a stable company with a stable and balanced financial situation.
2016
We have extended our assembly line with another automatic assembly machine Autotronic BA389F3 for assembly of components from size 0201. We also bought a repair station Ersa HR600, which allows automatic replacement of BGA parts. The company has expanded its own product portfolio of GSM applications for beekeeping – Honeyscale and for breeding – monitoring the function of the electric fence and monitoring the mare before birth.
2017
We added laser engraving machine for "label printing" on AL or ABS enclosures.
2018
We have been certified according to the IPC-A-610 standard for PCB assembling.
2020
In order to meet the ever-increasing demands on customer design of boxes and mechanical parts, we purchased a 3D printer.