We offer programming of FATEK PLCs and HMI touch panels according to your specifications.
Our advantages are
Individual approach to each

Many years of practice and experience

A team of experts

Professionalism

Consulting
We have been developing electronics since 1992 and have a large number of successful projects, both small-scale, ie orders with a development time of several weeks, and larger orders with a development time of several months.
PLC programming
Programming of PLCs FATEK and HMI touch HMI panels according to your demands.
There is a team of technicians with many years of experience of programming PLC FATEK.
The PLC program is created according customer´s  demand with an emphasis on the optimal use of all PLC functions, protection of limit states and behavior in case of emergency states. To visualize the process or set operating parameters, it is advisable to use touch HMI displays, for which we will create a program and a graphical display.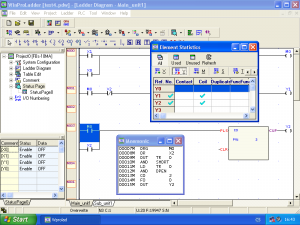 Consulting
At the same time, we can help you choose the most advantageous set so that all PLC parameters are used to the maximum, also with regard to possible expansion of the system in the future.
Technical support
Our experts are at your disposal by personal, telephone or email communication.
At the same time, all technical support for PLC FATEK, complete manuals, SW and programming examples can be found on www.fatek.com.
We will gladly prepare a quote based on your inquiry.
Nonbinding inquiry