We specialize in development, manufacturing (EMS-Electronics Manufacturing Services) and assembling of electronics, especially in the field of  GSM applications and customer electronics.
We offer the service and products at high technical level to our customers to comply with the latest trends in an electronic development. We offer complete service in a development of electronic appliances and customer solutions. Our designers and engineers have a long term experiences with electronic design and development. Our complete service covers all steps of electronic development as PCB wiring diagram, PCB design, SW development, production and assembly of prototypes, technology and manufacturing documentation, papers for testing laboratory and certification.
Our advantages are
Individual approach to each

Complete development, including mechanical work

HW and SW development

Production of a prototype printed circuit board on a milling machine

Own SMT assembly line
We have been developing electronics since 1992 and have a large number of successful projects, both small-scale, ie orders with a development time of several weeks, and larger orders with a development time of several months.
Development analysis
For a good result and successful completion of the development, it is immediately necessary to have a clearly specified assignment. Many solutions fail by not paying enough attention to compile the assignment with a possible risk analysis, which then leads to an increase in the cost of the entire development process and disappointment with the unexpected feature of the final product.
Our goal is to prevent this problems and therefore we perform an analysis of their needs with our customers, together we determine all the necessary parameters and properties of the required electronics and work out the exact assignment.
Mechanical construction
Before we start designing the electronics, we must have a comprehensive idea of the mechanical construction and appearance of the product. It is possible to opt for a standard production enclusure or design your own design. We use SW SolidDWorks for our own design, which is currently the most successful engineering 3D CAD system on the Czech market. SolidWorks offers powerful surface area and volume modeling.
Circuit design
When designing the circuit connection, we are based not only on the requirements of the optimal functionality of the entire device but also on the optimization of suitable components in terms of the price / performance ratio. We draw the diagram in the design system OrCAD PCB Designer Professional, which is followed by the design of a printed circuit board in the same SW.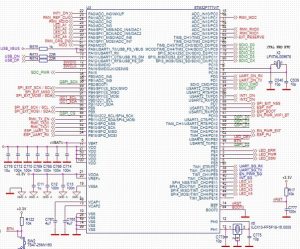 Printed circuit board design
After completing the design of the circuit solution, we will design the printed circuit board. We use the professional design system OrCAD PCB Designer Professional for PCB design, which allows us to create even very demanding printed circuit boards. The design system has many superior features that assist the designer and make it easier to comply with the rules for meeting EMC requirements, impedance matching and processor bus wiring. When designing a printed circuit board, we adhere to the IPC-2221 "Generic Standards on Printed Design".
The output of the printed circuit board design is a assembly drawing, data for the production of printed circuit boards (GERBER), data for a assembling machine and possibly a 3D model of the printed circuit board.
Software - Firmware
The vast majority of new designs today cannot work without the use of microprocessors. To create firmware for developed applications, our company has professional development tools at its disposal, which guarantee a high level of technical solution of the project, minimize the number of errors, shorten development time and help reduce development costs.
Developers with many years of experience in programming microprocessors in industrial electronics work on the software.
Production of samples
Development work is supported by our own sample production of printed circuit boards. In this way we can produce a sample for the needs of quick verification of the circuit connection. For this purpose, our development workplace is equipped with a modern engraving device ProtoMat S103 from the company LPKF Laser & Electronics for the production of prototype printed circuit boards.
Thanks to our own fully equipped SMT assembly line, we will assembly the prototype and supply a fully functional sample of the device to our customers.
The next step is the production of a verification series, on which we perform functional tests, verify the required parameters, measure the temperature profile and perform temperature tests.
This will verify the accuracy of the components used. In cases of discrepancies that could not be detected earlier, we will incorporate changes in the production documentation.
We also offer the possibility of printing on a 3D printer (Prusa I3 MK3S). Suitable for printing prototype parts, boxes, mechanical parts, models, etc.
We will gladly prepare a quote based on your inquiry.
Nonbinding inquiry