SP10 SMS processor(datalogger,SD Card,9DIn,1AIn,8DOut)
This product can no longer be ordered.
Production is discontinued.
GSM-SP10 is industrial SMS processor for remote controling and monitoring using GSM network.
Features:
— datalogger
— 9DIn
— 1AIn
— 8DOut
— Li-ION
— power 8-30V
Retail price
Price on request
Wholesale price
Price on request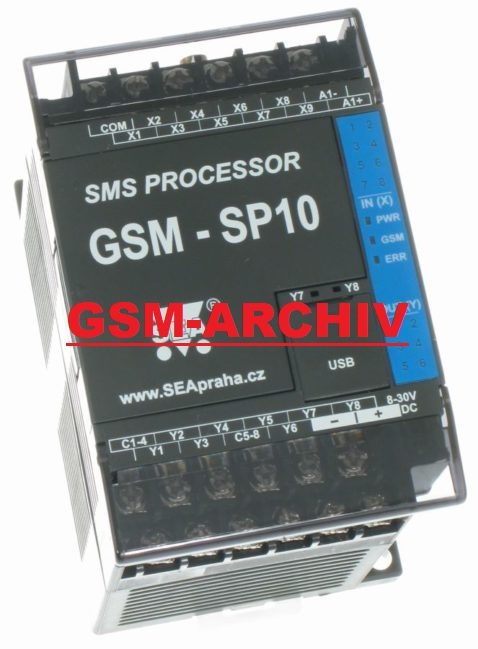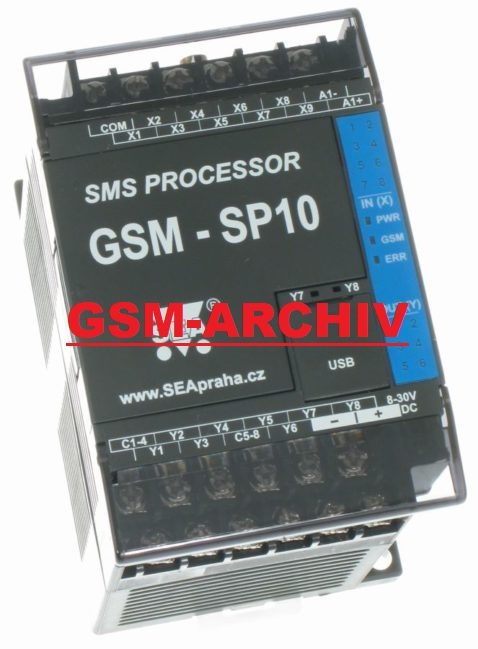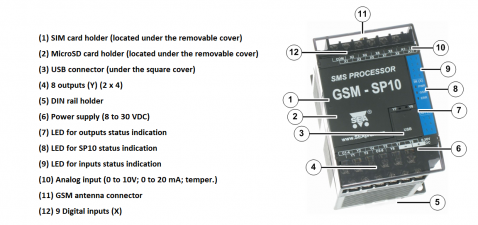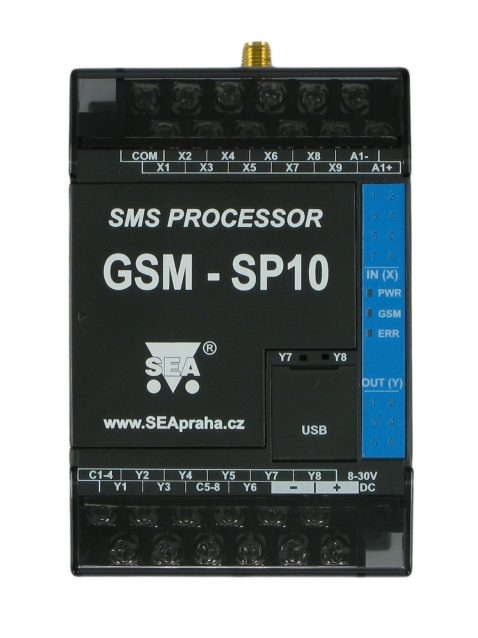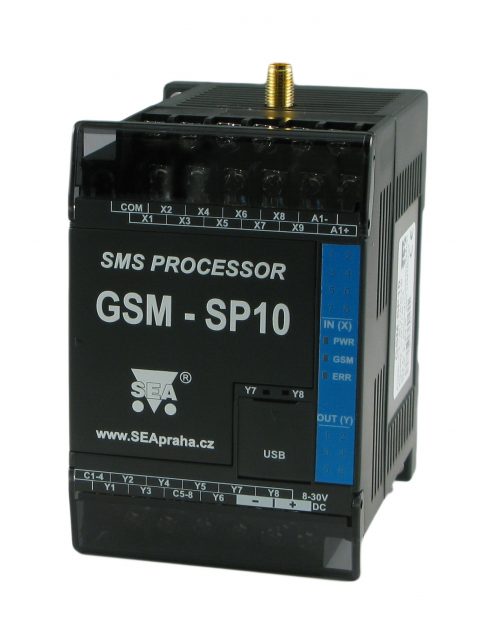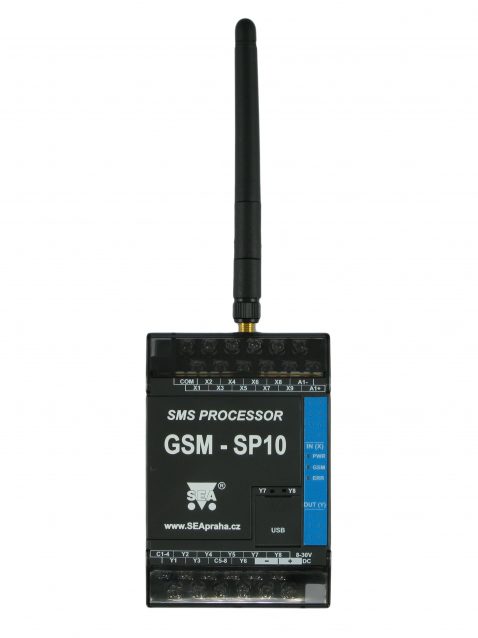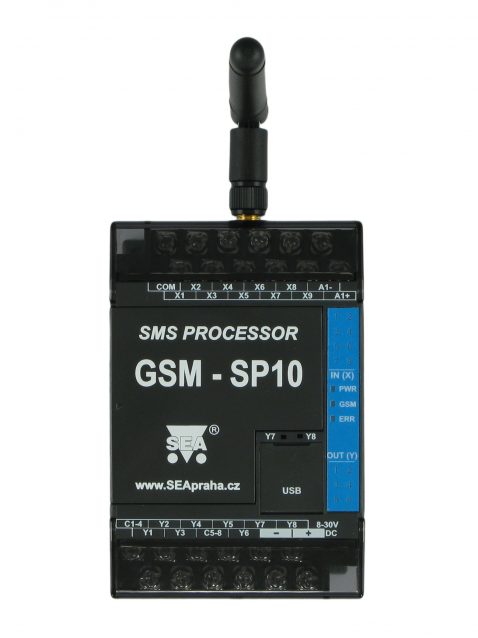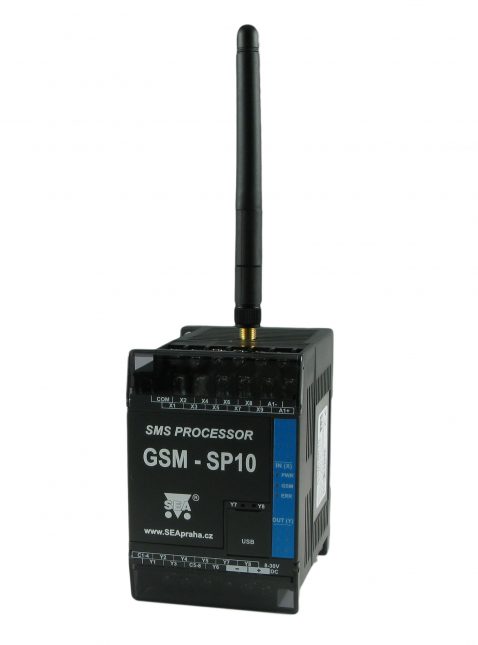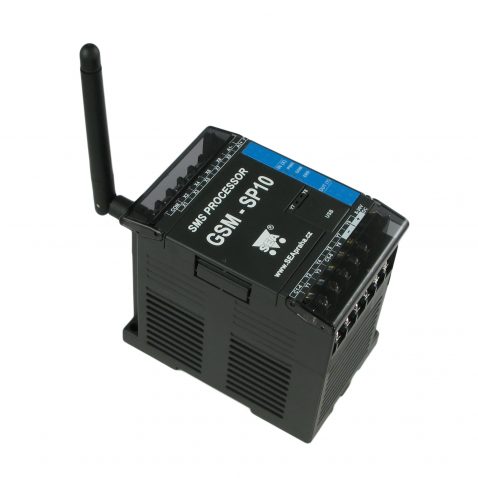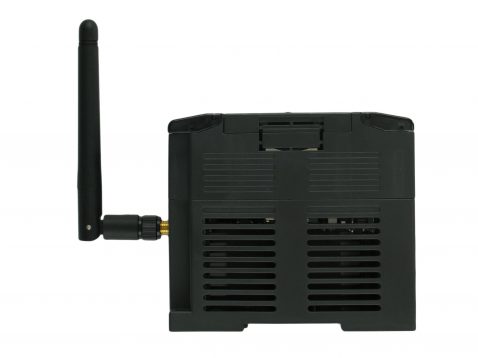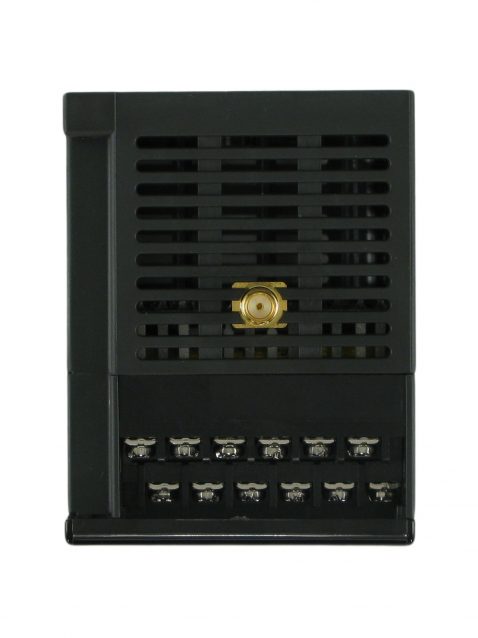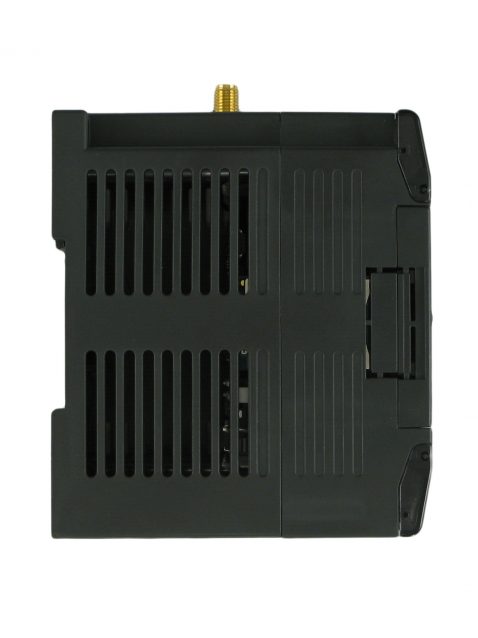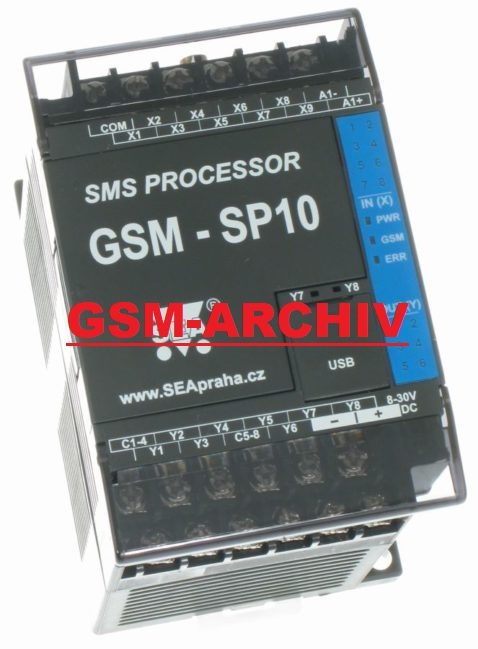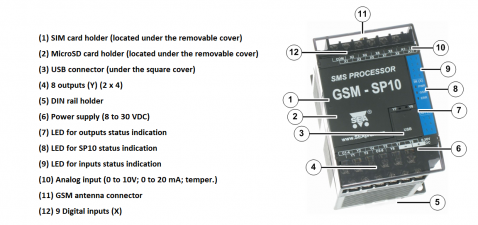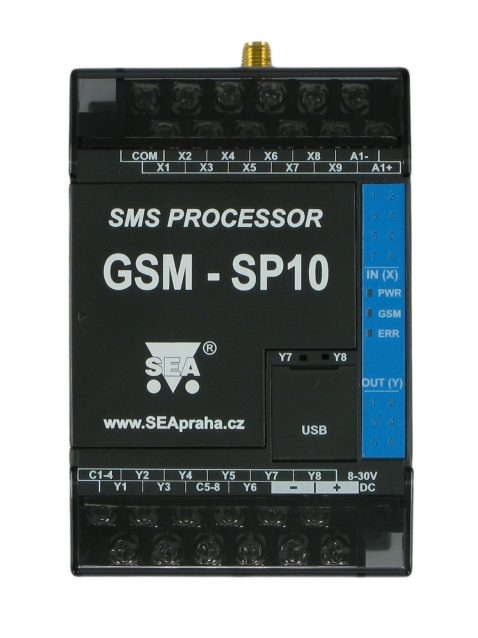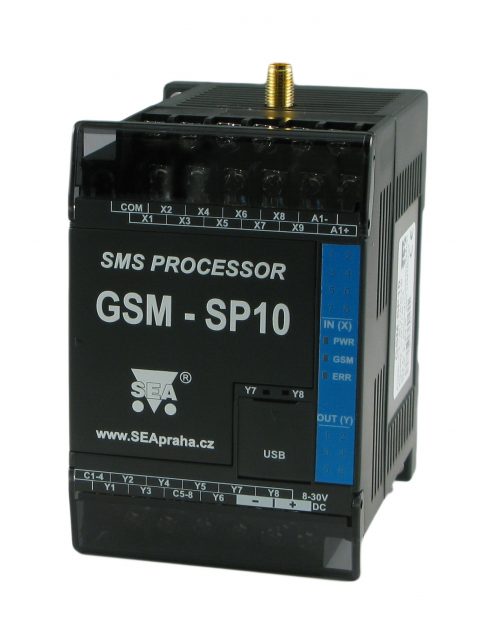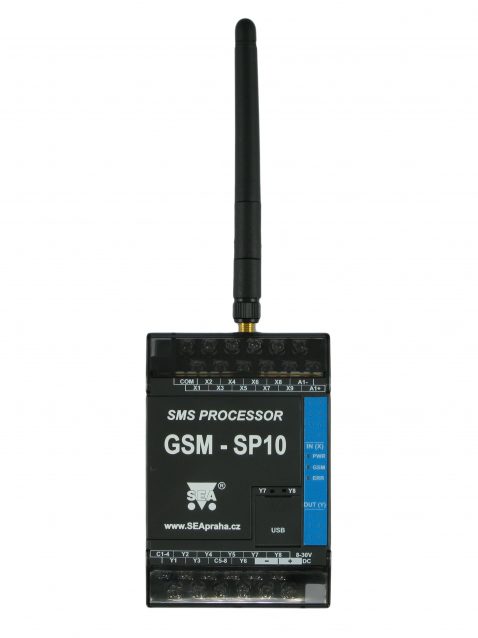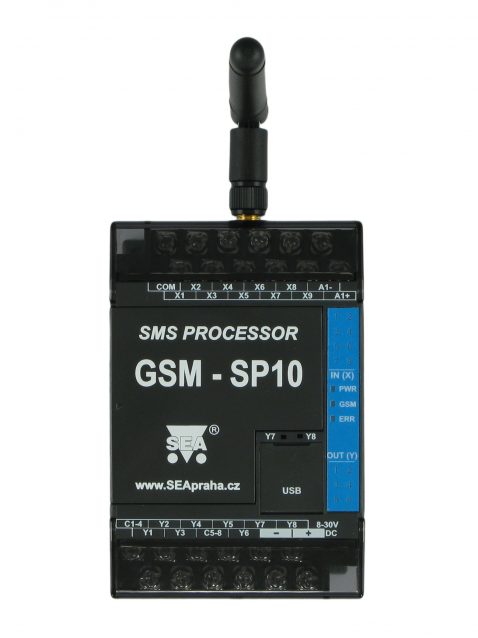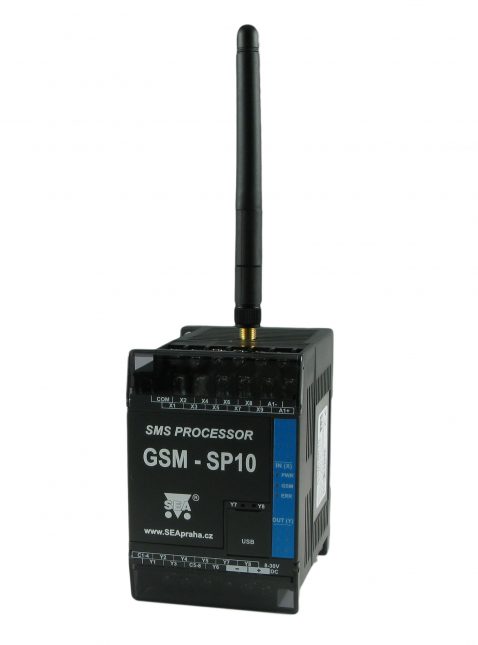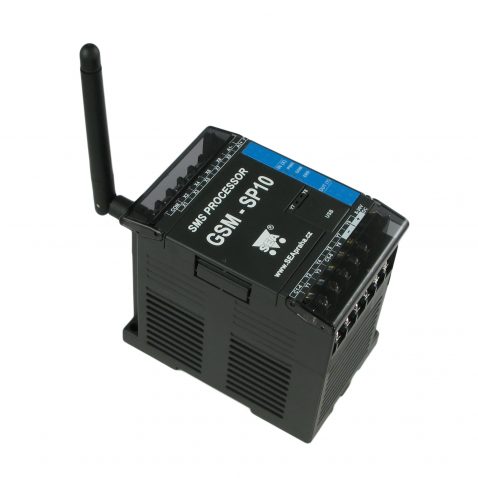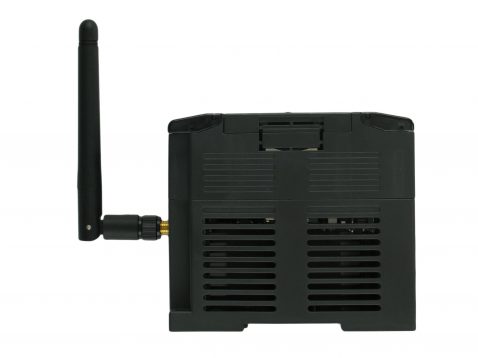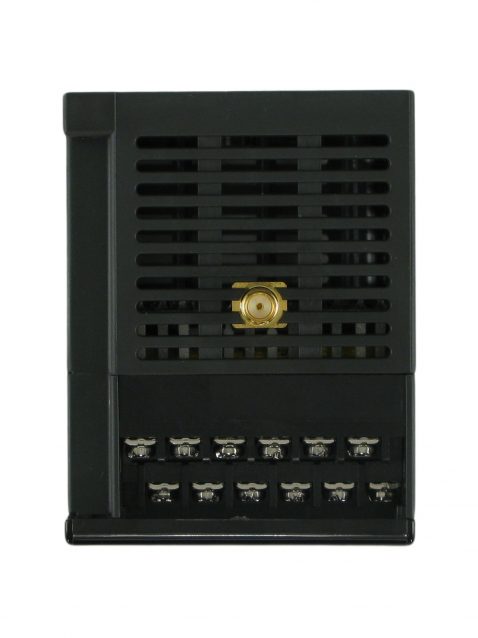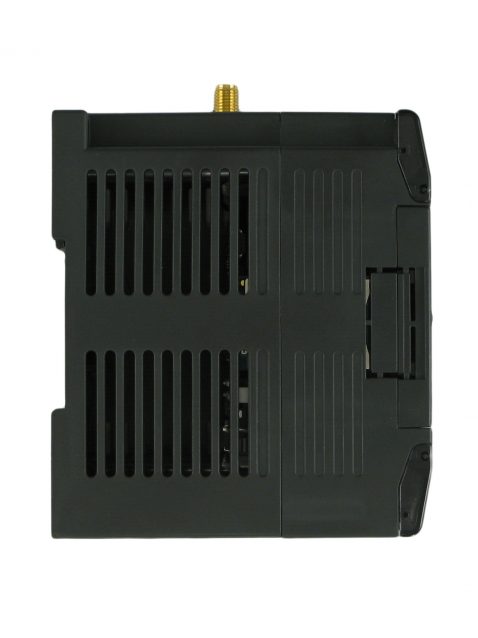 Product description

Technical specification

Commercial packaging

Accessories

Support
Product description
GSM-SP10 (resp. GSM-SP10B) is a powerful remote control and monitoring device. It enables to monitor digital and analog inputs status and to control outputs via GSM network. SP10 can use SMS messages, GPRS connection. The behavior of a device and names of inputs and outputs are in SMS version fully selectable via USB cable or remotely (GPRS) using supplied configuration software. The defined emergency conditions may result in sending a SMS message to the list of telephone numbers (boiler failure, gas leakage, rapid drop or rise of temperature or level) including information about the failure and restoration of power supply.
Versions
Order code

i/o

SD
card

connector for MODBUS or GSM-SP-EXP

dimensions W x H x D [mm]

Download file

MC price w/o VAT

VC price w/o VAT
GSM-SP10
9DIn, 1AIn, 8DOut
YES
YES
60x90x80 60x90x53*2)
see Support
Call and ask
Call and ask
GSM-SP10B
9DIn, 1AIn, 8DOut
NO *1)
YES
60x90x80

60x90x53*2)

see Support
Call and ask
Call and ask
*1) The licence for SD card and logging software can be bought additionally.
*2) It's possible to rebuild the box for a certain fee.
Advantages
Simple installation

 – The device is delivered with a frame for mounting onto DIN rail.

Easy monitoring

 – just send a SMS message "1234 STATE" to receive a message about the state of the device inputs and outputs.

Configuration and Monitoring SW

 – user friendly PC SW works either locally via USB port or remotely using GPRS.

Backup power –

 backup Li-ION battery enables alert on 230 V

AC

 failure.
Use
Boiler houses, heating plants and heat pumps.
Industrial objects – water plants, water reservoirs, small hydroelectric stations, boiler plants.
Technology processes – fault report, gas leakage, drop or rise of temperature or level, freezing point monitoring.
Configuration sw
For configuration of GSM-SP10 is used sw SeaConfigurator (full version can be downloaded for free in the section support).
Expansion 
If you need more inputs, it is possible to connect expansion module GSM-SP-EXP to SP10. This expansion module has 9 digital inputs and 7 analog inputs. GSM-SP-EXP is connected to GSM-SP10 via the flat strip cable, from which is the unit powered.
Communication boards (MODBUS RTU, MODBUS ASCII, FATEK PROTOCOL)
The SP10 is possible to connect the communications board. This is an expansion board serial port for SP10. Used for connecting to control systems (PLC, PC) that can create so-called. Numbered events. GSM-SP10 can be both MASTER and SLAVE. Serial port expansion board plugs into the 8-pin dual row connector located under the front bezel. Choose between two variations of GSM-SP-CB2 is a RS232 serial port and GSM-SP-CB5 the RS485 serial port with switchable terminator. The communication method and choice of registers is set using SeaConfigurator on the General tab.
Technical specification
power supply:     

8 – 30 V

DC

(max. 0.5 A / 12 V

DC

, average consumption 2.5 W)

Accumulator:

Li-Ion

Digitital input:

 9 inputs (8 – 30 V

DC

); galvanically separated (one common terminal)

Analog input:

1 selectable as: current (0-20 mA), voltage (0-10 V), temperature (for sensors type KTY80-2xx, Pt100 or Pt1000)

Digital output:

8 outputs (100 mA/50 V

DC

or 70 mA/35 V

AC

), galvanically separated

Ports: 

USB 2.0 for programming and monitoring

GSM:

900/1800 MHz

(850/900/1800/1900 MHz only on special order – contact here)

operating temperature:

-20 to +45°C

dimensions:

width 60 mm x height 90 mm x depth 80 mm (53 mm) **) (width without GSM antenna, depth from DIN rail)
*) See the manual for technical details.
**) It's possible to exchange the box for a certain fee.
Commercial packaging
1pc

GSM-SP10

(or GSM-SP10B)
1pc antenna GSM-ANT05S
1pc USB cable A-B (order code HW-11.02.8818)
1pc MicroSD card 2GB (GSM-SP10B has no SD card and no sw licence for logging software. The licence can be bought additionally)