GSM remote control RELLAY 5 (1DIn or 1temp,1DOut, 230V)
directly controlled socket 230V
controlled via SMS messages
automatic temperature regulation via temperature sensor
Retail price
Price on request
Wholesale price
Price on request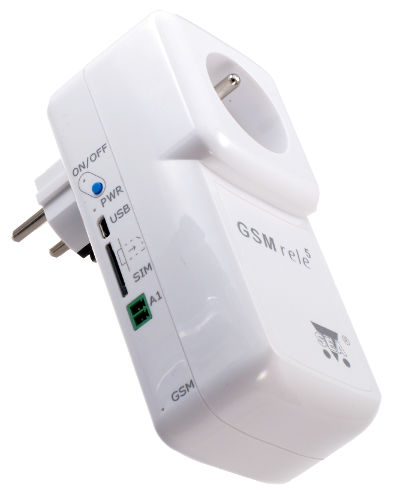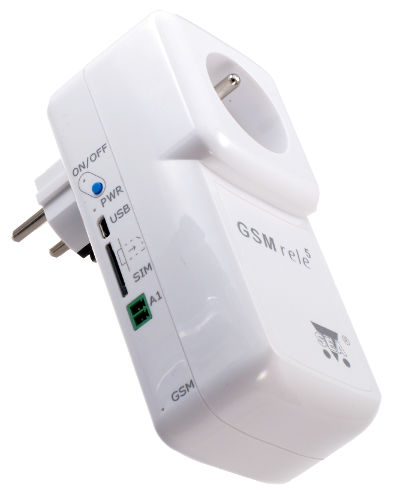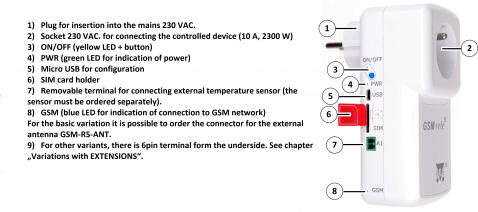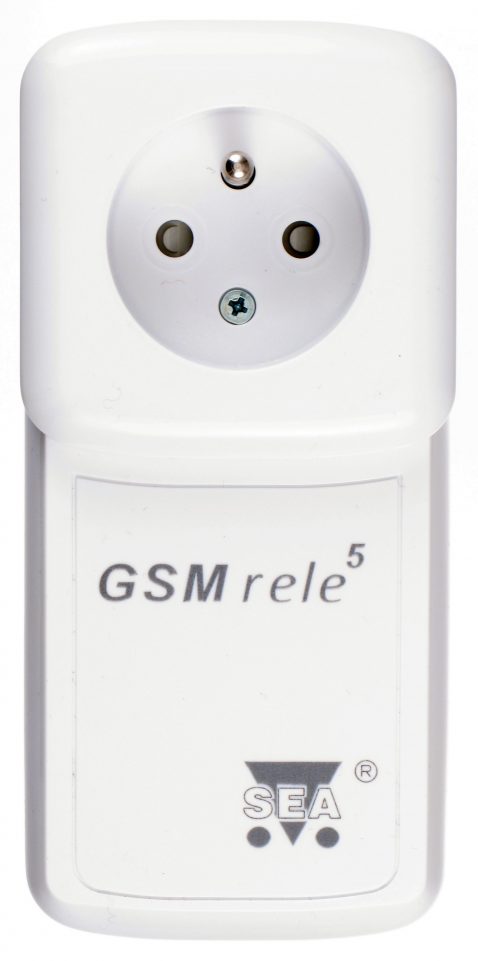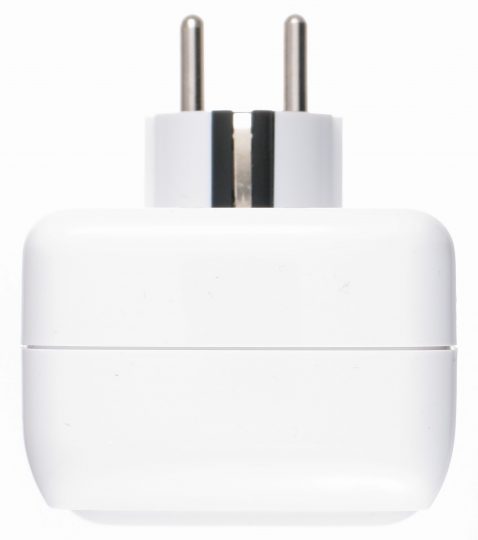 GSM-R5-ZAS Zdola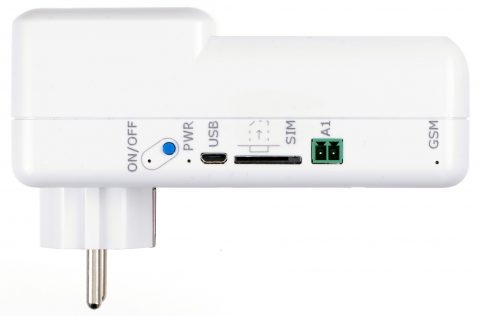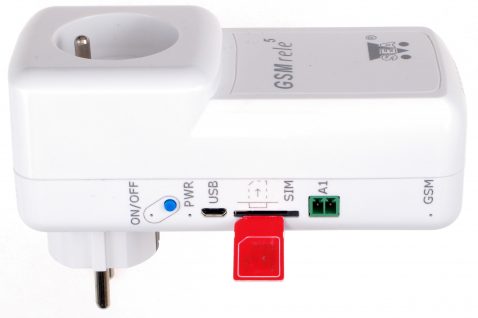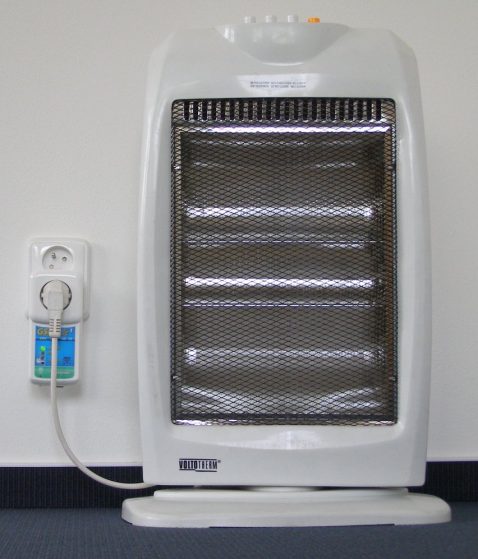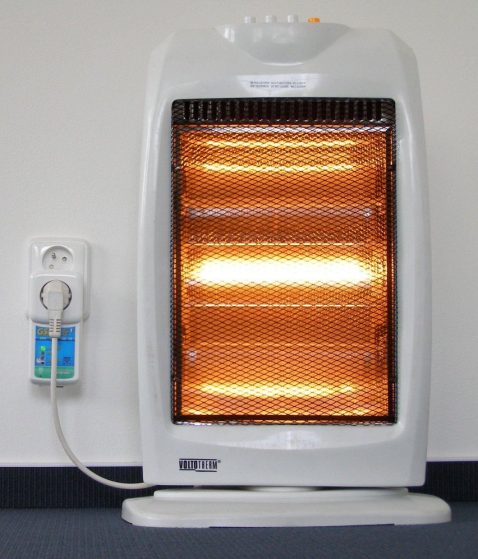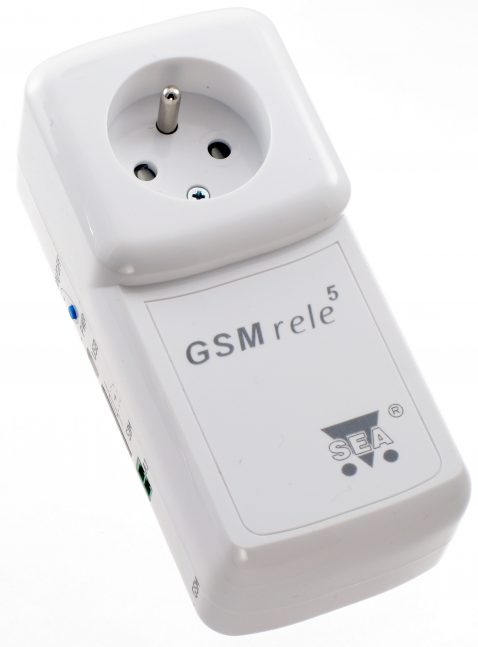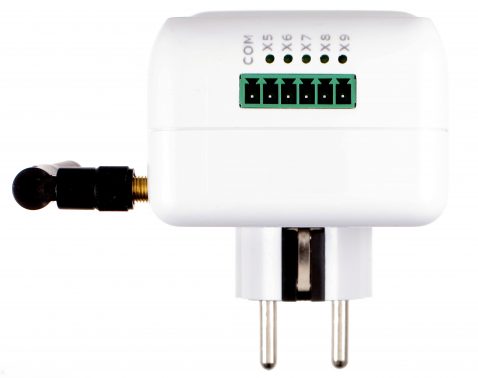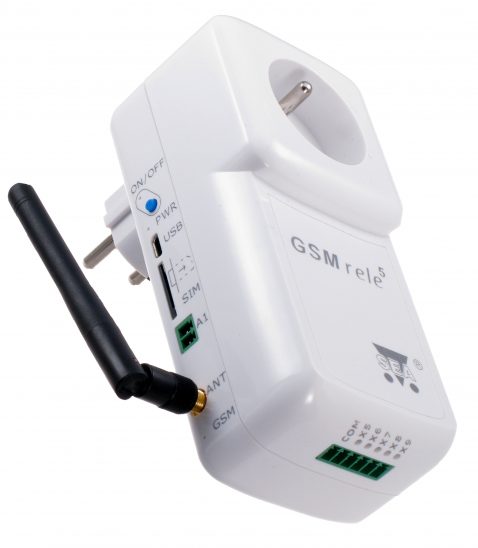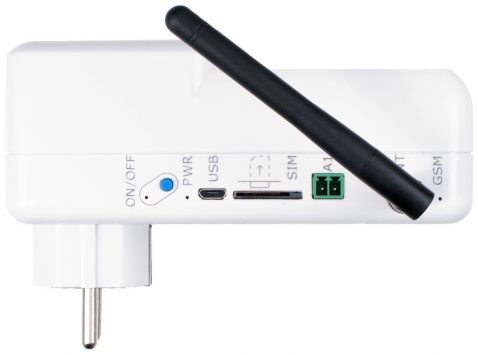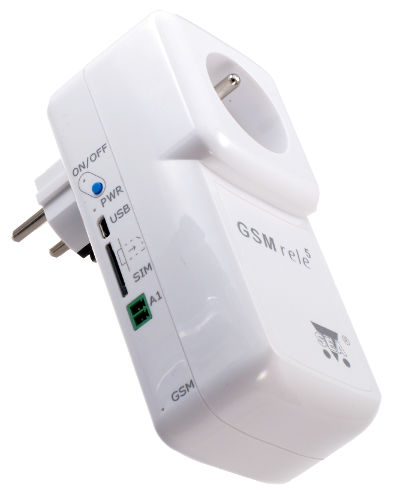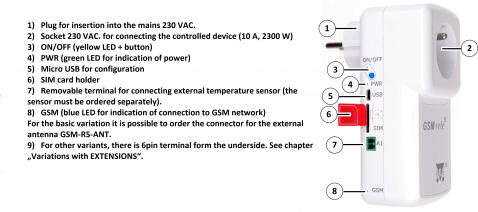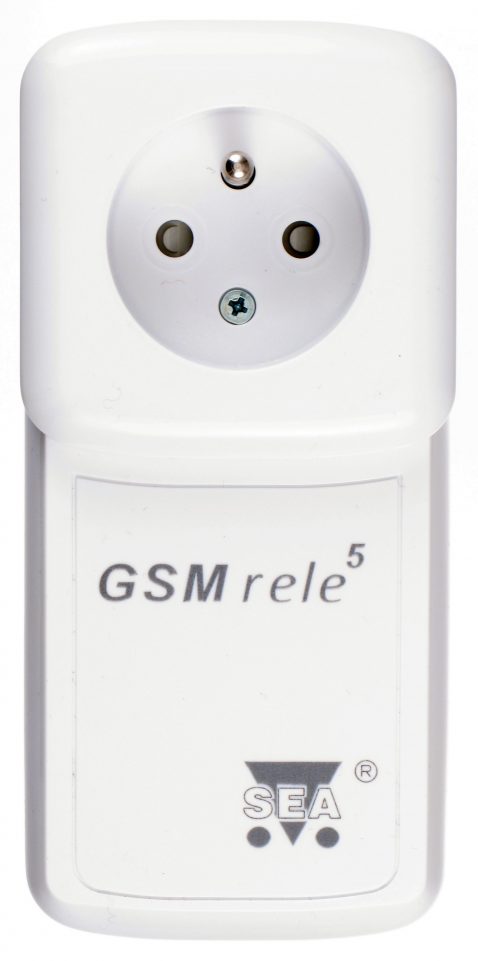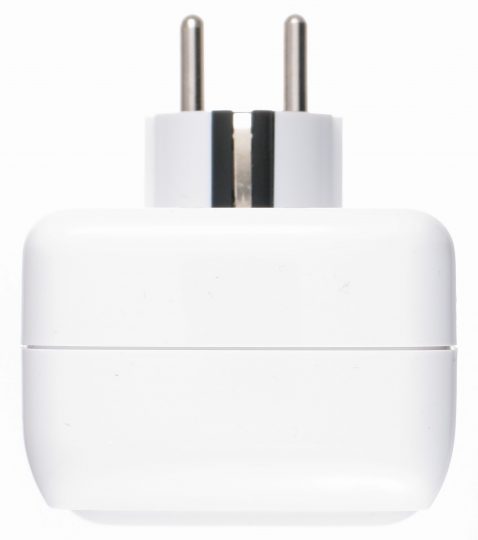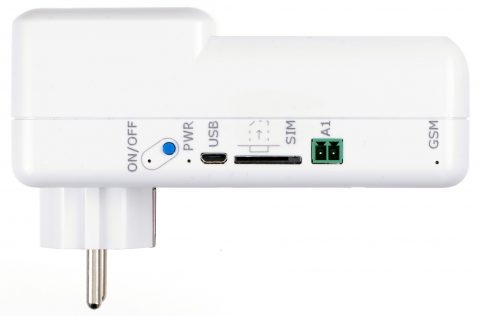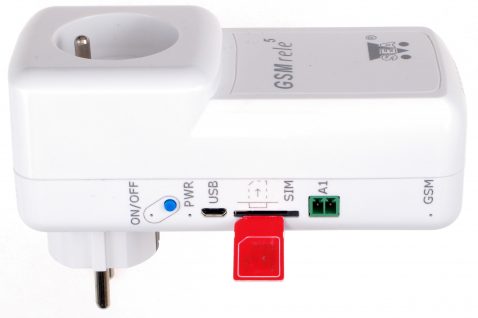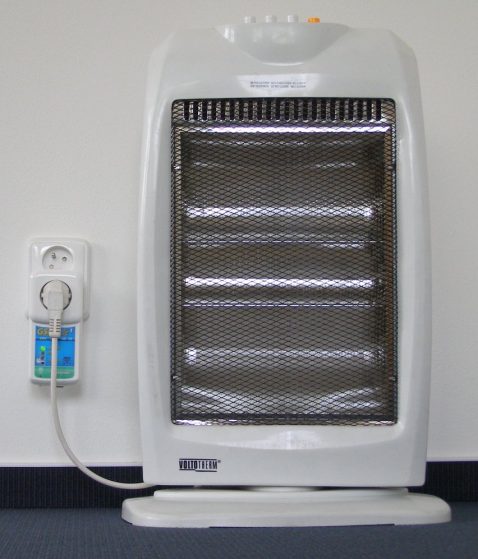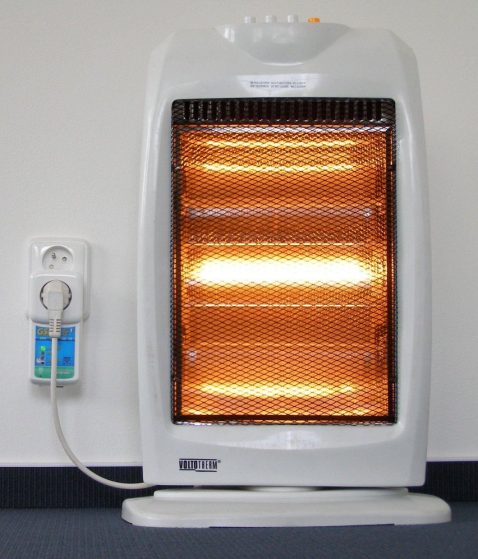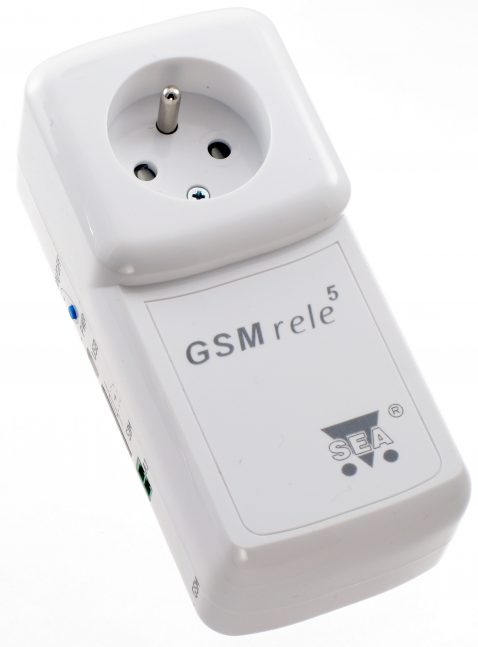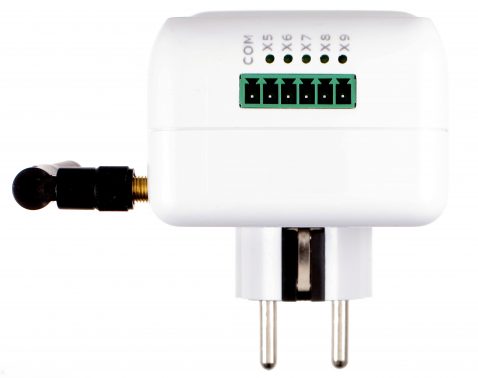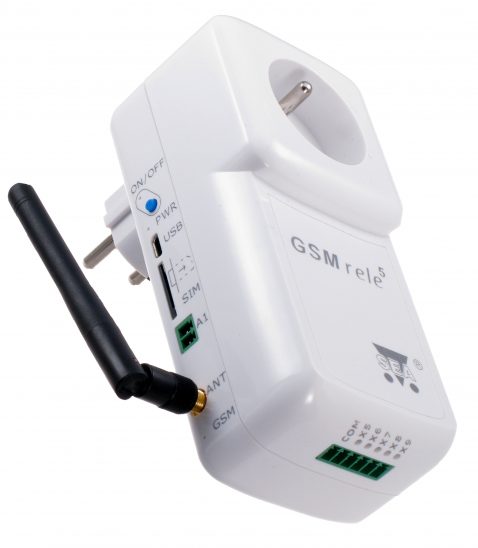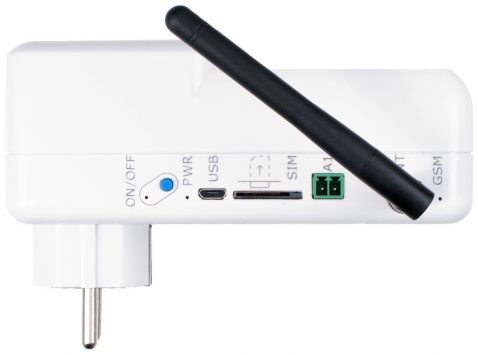 Product description

Technical specification

Commercial packaging

Accessories

Support
Product description
The GSM rele5 (GSM-R5-ZAS) device is actually an electrical outlet controlled by a mobile phone via SMS. This allows you to switch on and off the conventional electrical appliance 230 V / 50 Hz, 10 A, typically an oil radiator. To put the GSM rele5 into operation, just insert the SIM card of any operator. The GSM rele5 is also suitable for RESETing servers, routers or modems.
In practice, communication takes place by sending an SMS message in the form "1234 ZAP" ("1234 VYP", etc.), where "1234" is your pre-set password, which of course you can change. The GSM relay 5 tells you that the instruction has been received. If you do not want this answer, send a message in the form "1234 ZAP ZAP", meaning "DO NOT send a confirmation message".
The GSM relay 5 is equipped with an analog input for temperature measurement. The current sensor temperature information is a part of the status message the GSM rele5 sends each time the SMS command is acknowledged or the "1234 STAV" command is requested. The GSM relay 5 can also regulate room temperature to the desired temperature by switching on and off the connected electrical appliance (such as an oil radiator). Just send an SMS message in the form "1234 TEPL 21" and the GSM rele5 will start to adjust to 21 ° C.
The GSM relay 5 can also be configured to send an SMS message when it drops or exceeds pre-set temperature limit. The report is sent to the phone number stored in the configuration under the name "MASTER". The MASTER number is the number which the GSM relay 5 received first message from(e.g.: "1234 ZAP").
GSM relay allows measuring the power and total consumption of the connected appliance. Based on the measured values, it is possible to send, for example, information messages about exceeding the specified power of the appliance or ofter reaching a certain total consumption.
GSM relay is equipped with button. It's used for changing the state of the outlet (ON/OFF).
note: The temperature sensor is not included. You need to orded it separately. Recommended type is: GSM-C-T2
Usage examples
holiday houses

 – remote controll of heating , water heating, air conditioning…
Event announcement – door opening, windows, signal from security device
Room temperature control – Automatic switching on and off of the connected radiator
Monitoring the temperature drop below a set limit – the temperature is monitored at the connected temperature sensor

remote reset of computers

Switch on / off heating, el. Boiler, boiler, gas boiler, air conditioning, storage stoves – you can turn the heating on or off simply by sending an SMS message
Heating regulation according to non-frost temperature – connect the temperature sensor and set the required temperature via SMS. If the temperature drops below the set, you will automatically receive a warning SMS
Measuring the power voltage and total consumption
Advantages
Easy installation

 – simply by plugging into a mains socket without interfering with mains wiring

Simple controll

 – just send an SMS from your mobile phone.

Plug&Play

 – the basic setting is directly from the factory, no complicated setup is required
Reconfiguration – simple editing of phone numbers and other parameters from the SeaConfigurator
Datalogger for traffic data (e.g. temperature)
Setup and monitoring (configuration and monitoring sw)
The program SeaConfigurator is used for configuration. This software for PC provides connection either using USB cable or remotely using GPRS. The software is free to download and without any restrictions.
Controlling from your phone
SMS messages – the list of messages is available in User Manual
Application for Android and iOS
For the functionality of the CML application, it is necessary to have an activated data tariff on the SIM card, which is inserted in the device. Transferred data can be charged by the operator according to the tariff agreed by you.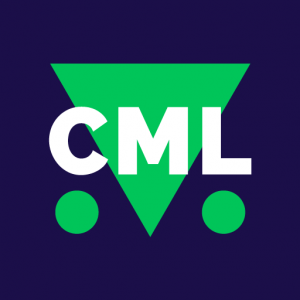 To simplify and conveniently manage your devices from a range of GSM applications, we have developed an application for Android smartphones and iOS (Apple). This application is free of charge.
This app only serves to simplify control. It is not a condition for control. If you do not have an Android phone, you can control the device via SMS or ringing.
You can download this application from  Google Play or Apple Store for free, type into search "CML SEA". After installing the application, make the first registration, take a photo of the QR code of the device into the "paring code". The QR code you find in the GSM-R5-ZAS package.

https://play.google.com/store/apps/details?id=cz.seapraha.cml

https://apps.apple.com/app/id1511530045
On-line Data on a website
You can monitor the measured values, including the history, and display them clearly on the cml.seapraha.cz website. You can also control the outputs or set up e-mails with alarm messages directly from the website.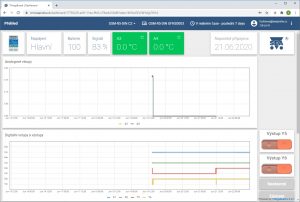 Version
Ordering number

Antenna connector

Internal battery

Basic temperature input

Expansion inputs and outputs

GSM-R5-ZAS
NO
NO
YES
NO
GSM-R5-ZAS-2A
YES
YES
YES
2x

temperature

GSM-R5-ZAS-2IN
YES
YES
YES
2x DIn *1)
GSM-R5-ZAS-3OUT
YES
YES
YES
3x DOut *1)
GSM-R5-ZAS-5INB
YES
YES
YES
5x DIn *2)
*1) Inputs and outputs are galvanically isolated from the device and between each other.
*2) Inputs and outputs are galvanically isolated from the device but have one common terminal.
Technical specification
Power supply:
230 Vac (+/- 10%)
Outlet socket:
230 Vac / 10 A maximum – resistive load *)
Device consumption:
3 W; standby 1 W
Analog input:
1x temperature -30°C to +55 °C
Operating temperature:
-20 až +40 °C
Dimensions
140 x 95 x 65 mm
Weight
237g
Humidity:
RHmax 90%
*)
For loads greater than 10A or inductive or capacitive loads, use a different type of device
e.g.: GSM-R4-DIN with additional relay or contactor.
Commercial packaging
| | |
| --- | --- |
| 1 | GSM relay |
| 1 | 2 pin connector pitch 3,81mm |
| 1 | screwdriver 2mm |