GSM communicator RELE 5 DIN (2AIn, 2DIn, 2DOut, datalogger)
Designed for remote control and monitoring of electrical equipment
Door opening via "ringing" with datalogger
2 outputs for switching contactors
Possibility of regulation according to 2 temperature inputs
Fast DIN rail mounting
Log traffic data to device memory (eg temperature)
Retail price
Price on request
Wholesale price
Price on request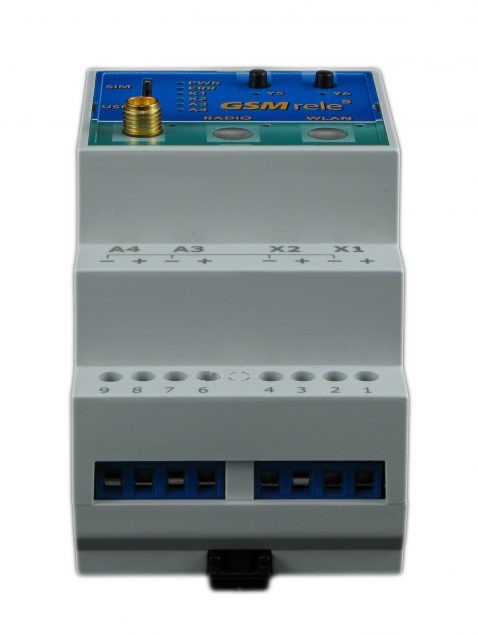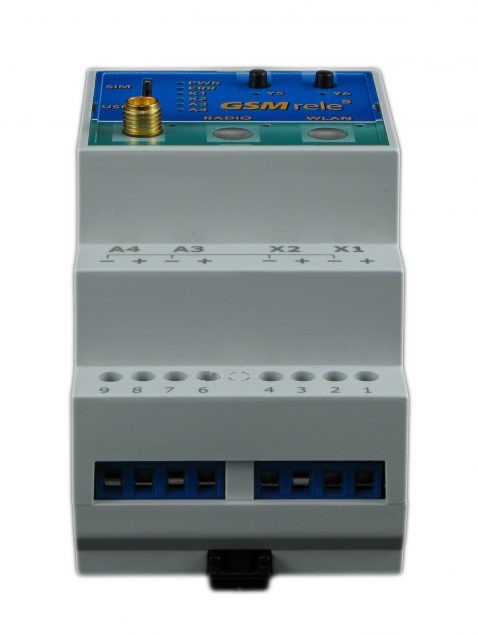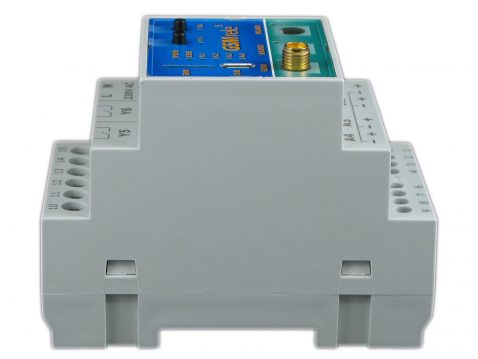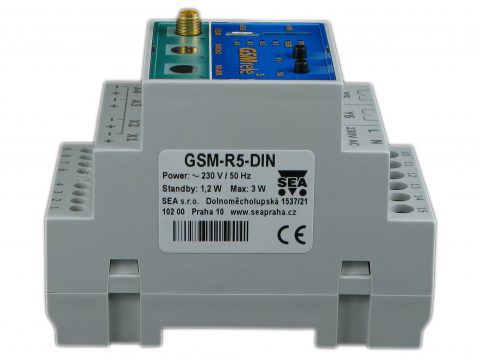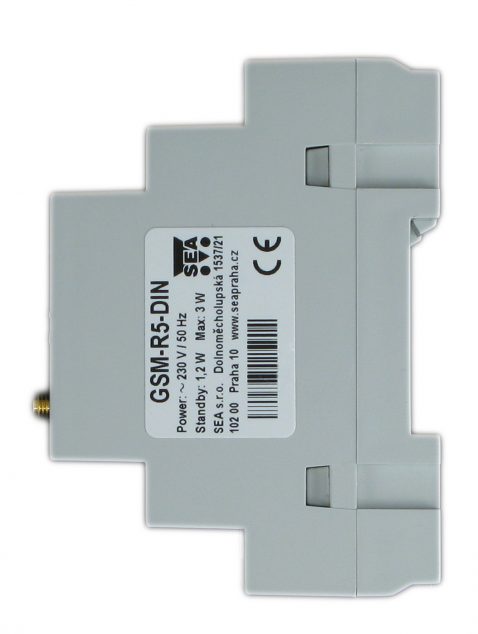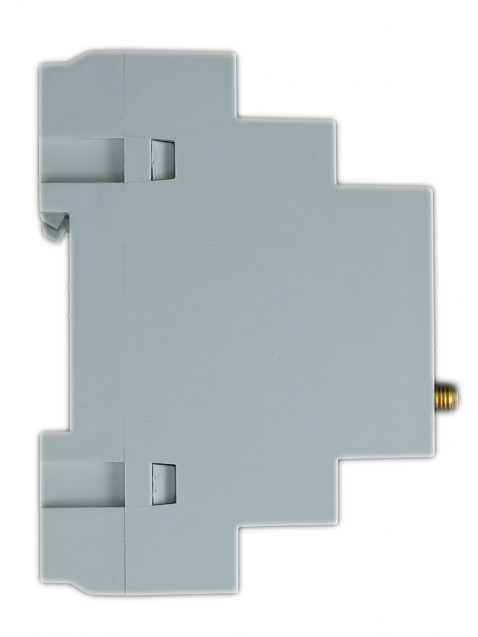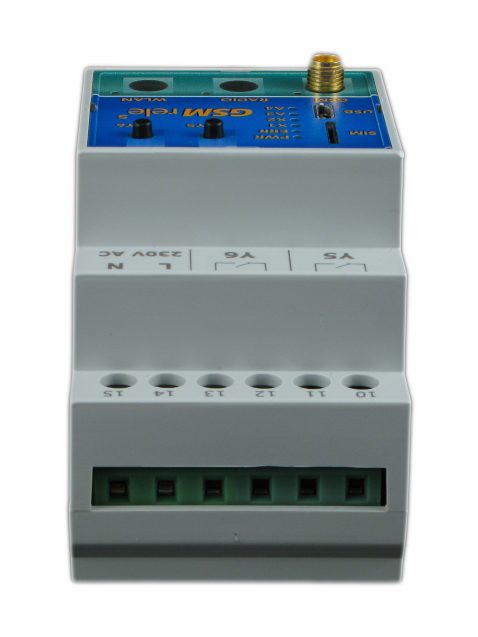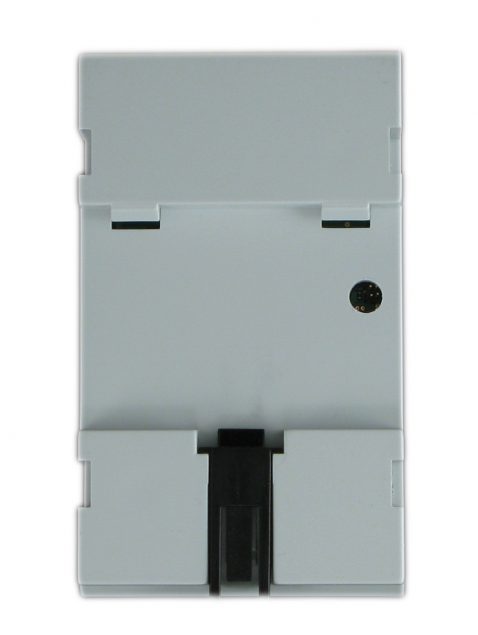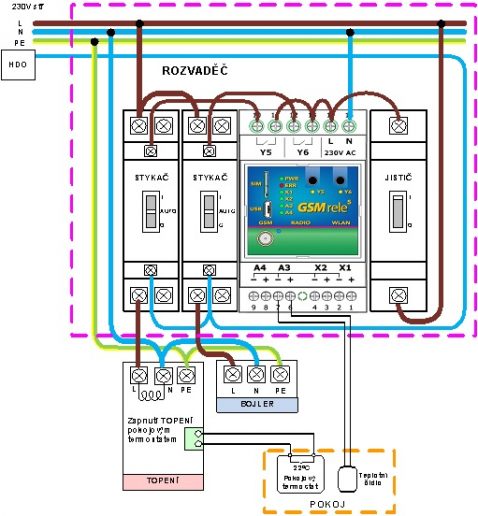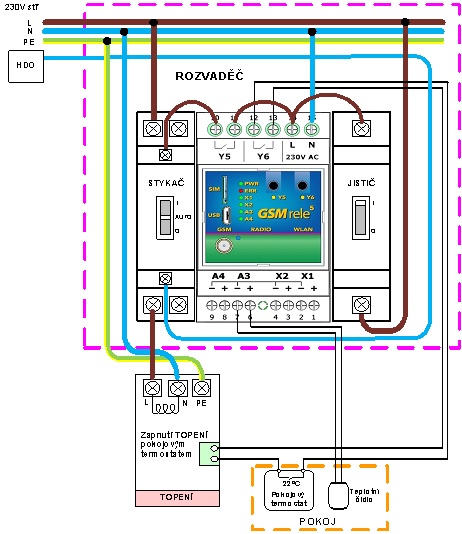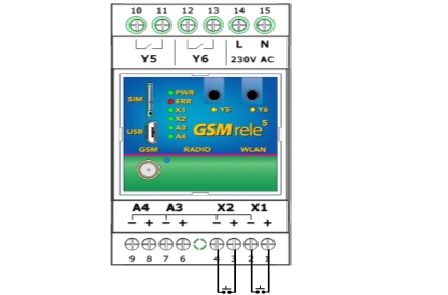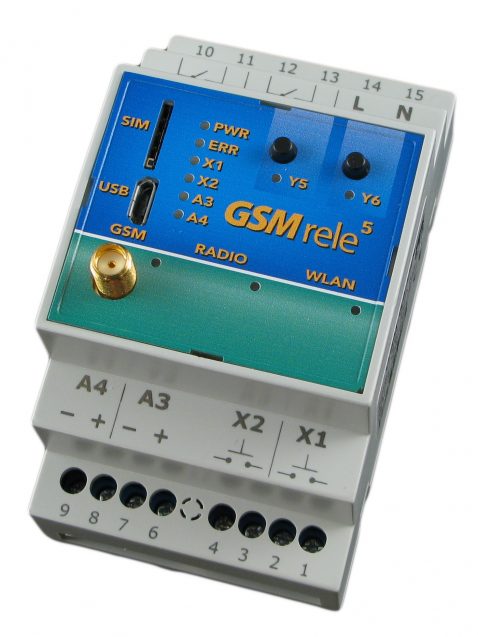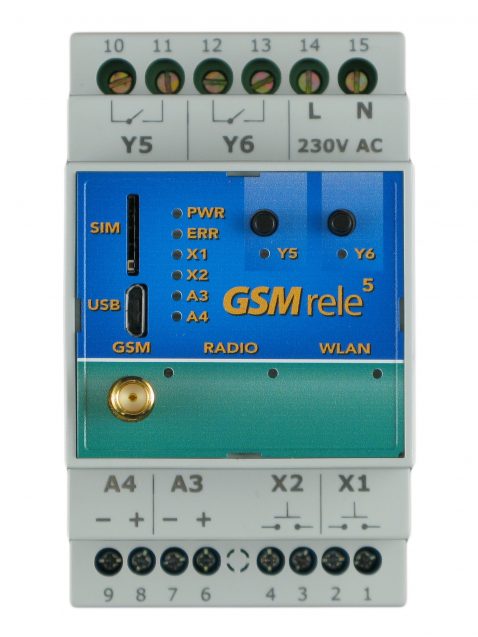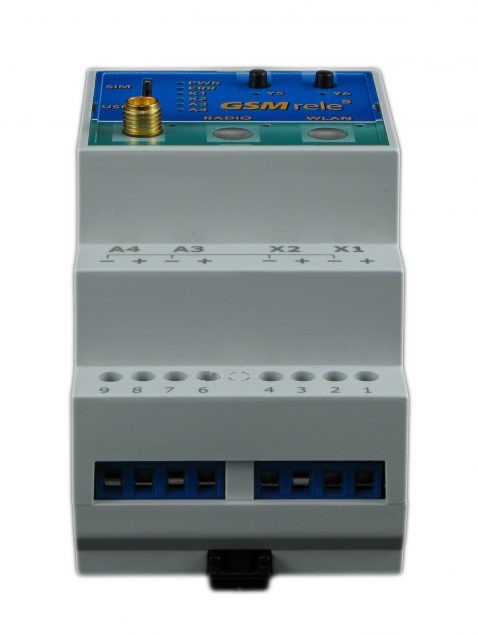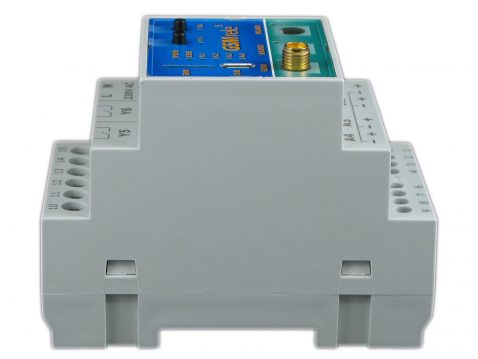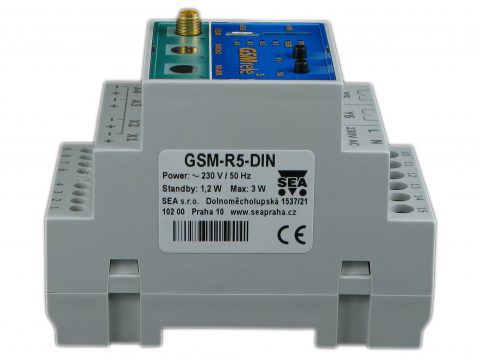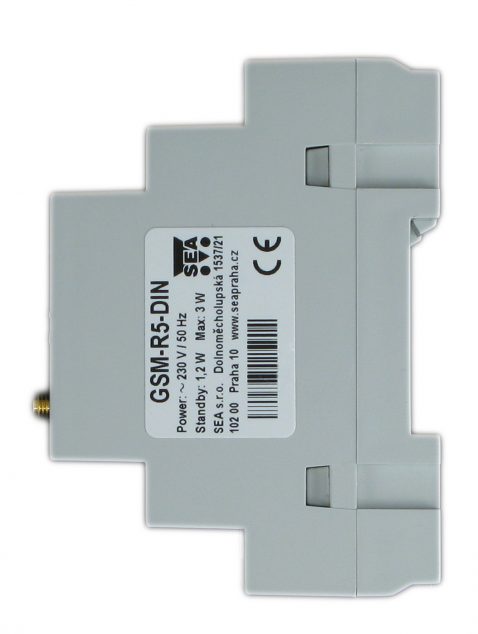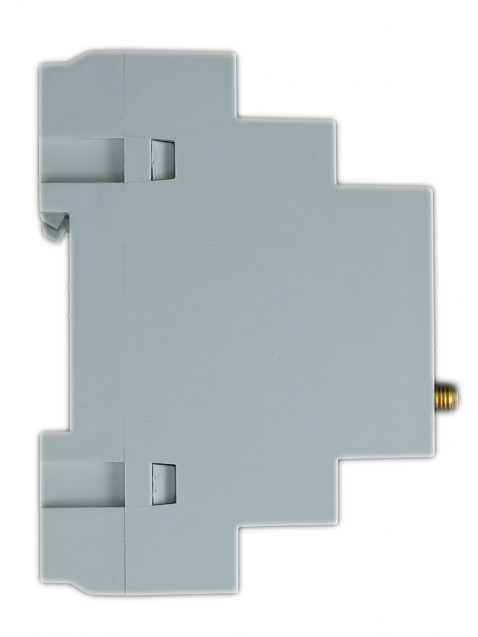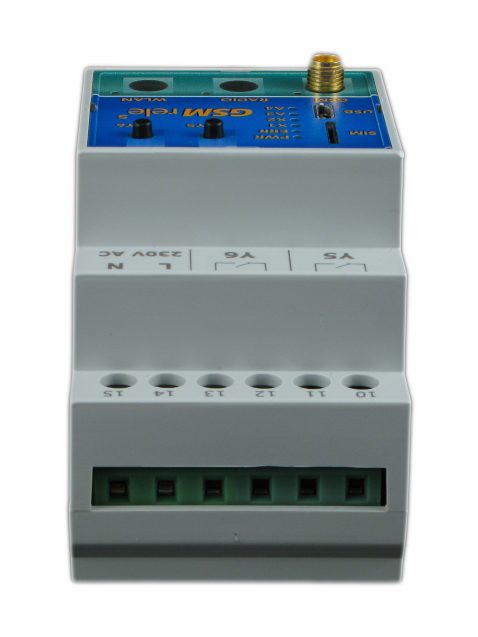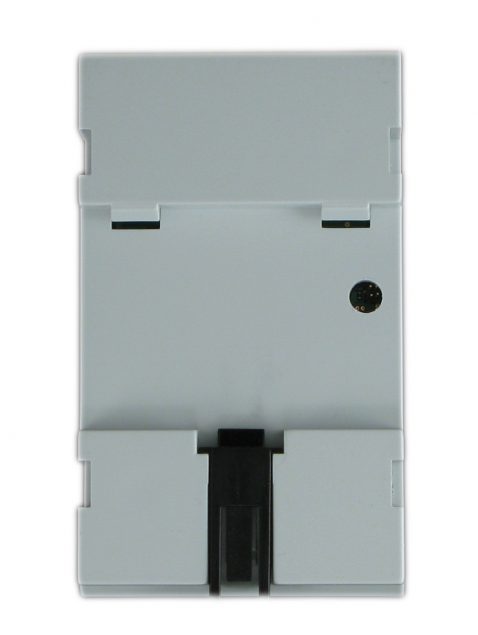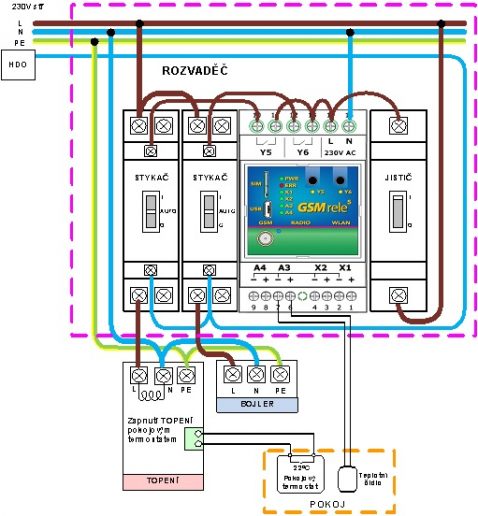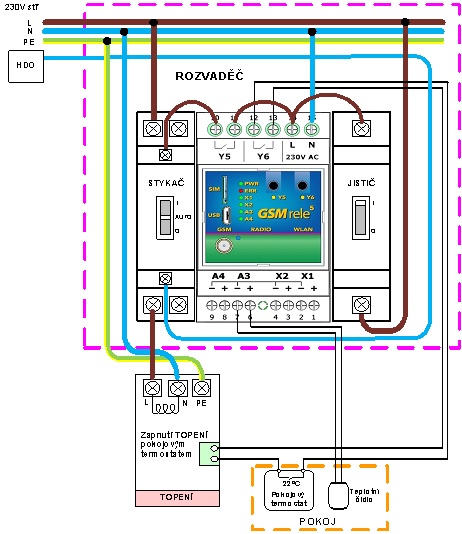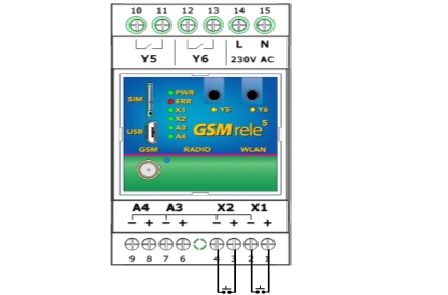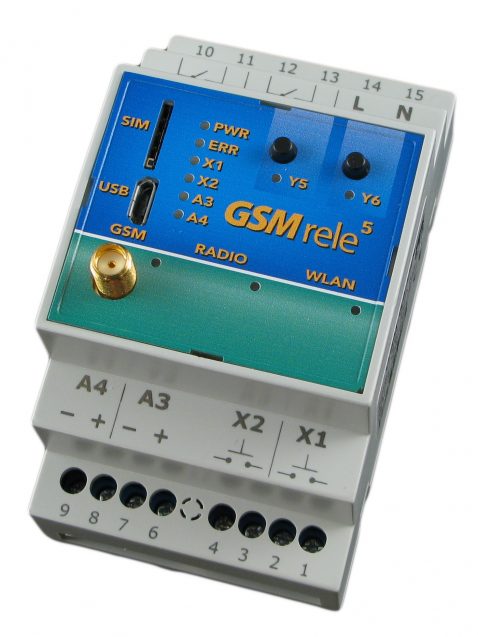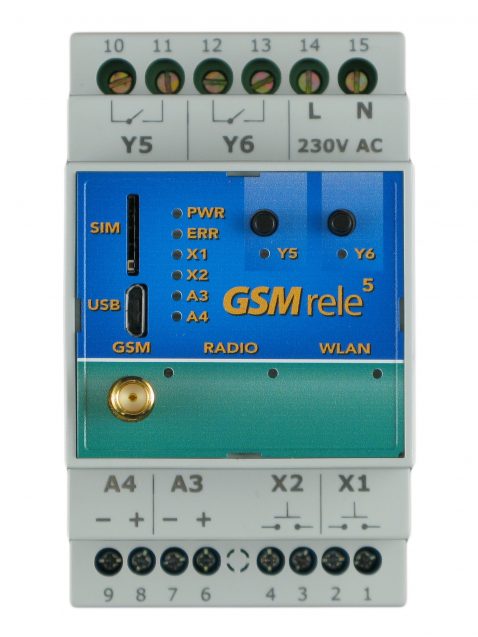 Product description

Technical specification

Commercial packaging

Accessories

Support
Product description
The GSM rele5–DIN is designed to be mounted on a DIN rail into a switchboard. GSM rele5 can control two independent electrical circuits in a building e.g. circuit of an accumulator stove and circuit for garage gate control. The control is made via SMS messages or by ringing. After installation into an electrical box insert a SIM card of any GSM operator and the device is ready to operate.
GSM rele5 has 2 galvanically isolated logical outputs with a semiconductor switch, which can control directly low power circuits up to 230 VAC/90 mA. It's possible to directly control e.g. a thermoregulator circuit of a gas boiler or a coil of one phase contactor 230 VAC. The contact of this contactor can control either one phase high power appliance (e.g. electrical radiator) or a coil of three phase contactor of an accumulation stove.
GSM rele5 has also 2 analog inputs for temperature measuring and 2 logical inputs. GSM rele5 has built in automatic regulator which uses analog inputs from temperature sensors to maintain preset temperature. The temperature on sensors can be readout via SMS. There is an internal built in Li-Ion accumulator which enables to send an SMS in case of a power failure and to restore the output status after a power failure. It's also possible to monitor the status of inputs and temperatures via SMS during 230 V power failure.
Usage
Houses, bungalows – remote control of heating, water heating, air conditioning, gate opening

Event SMS

 – e.g. 230 V

AC

 failure, doors or Windows are opened, signal from the alarm unit
temperature regulation – automatically switch ON / OFF the connected heating unit
 Watching the temperature drop under the limit – the temperature is measured by temperature sensor
 Record of entrance and exit cars from parking place or garage (up to 200 users)
 Reset for servers and control systems
Swith ON / OFF  for boiler, radiator, air conditio
Time schedule – creating actions according to the time schedule CRON. Periodical sending SMS or GPRS information about the state to the mobile phone or to Google chart in Internet
Advantages
change your configuration via GPRS
built-in Li-ION backup battery – monitor the status of inputs and temperatures via SMS during 230 V power failure
setting for regulat state report
 built-in MACROs and timers for process automatization
configuration via USB or SMS
sending SMS to max. 200 users
buttons for changing a state of each output
easy and convenient remote control from your mobile via SMS od application for OS Android or iOS (Apple)
datalogger
Setup and monitoring (configuration and monitoring sw)
The program SeaConfigurator is used for configuration. This software for PC provides connection either using USB cable or remotely using GPRS. The software is free to download and without any restrictions.
Controlling from your phone
Android and iOS applications
For the functionality of the CML application, it is necessary to have an activated data tariff on the SIM card, which is inserted in the device. Transferred data can be charged by the operator according to the tariff agreed by you.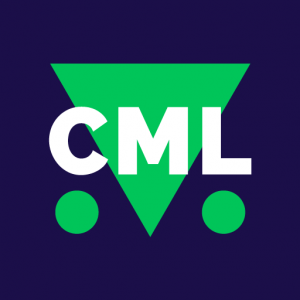 To simplify and conveniently manage your devices from a range of GSM applications, we have developed an application for Android smartphones and iOS (Apple). This application is free of charge.
This app only serves to simplify control. It is not a condition for control. If you do not have an Android phone, you can control the device via SMS or ringing.
You can download this application from  Google Play or Apple Store for free, type into search "CML SEA". After installing the application, make the first registration, take a photo of the QR code of the device into the "paring code". The QR code you find in the GSM rele5 package.

https://play.google.com/store/apps/details?id=cz.seapraha.cml

https://apps.apple.com/app/id1511530045
On-line Data on a website
You can monitor the measured values, including the history, and display them clearly on the cml.seapraha.cz website. You can also control the outputs or set up e-mails with alarm messages directly from the website.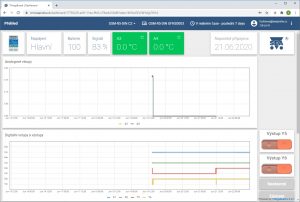 Datalogger
Analog measured values, input / output changes and SMS messages are regularly stored in the device according to the configuration settings. Data can be downloaded from GSM-R5-DIN via GPRS connection.
Technical specification
Power supply
230 Vac
Consumption
typ. 1W
Digital inputs
2x  potencial free contact
Analog inputs
2x configurable as:
voltage 0 to 10V;
current 0 to 20mA (input resistance 75W);
Temperature for sensors:
KTY (-50 to + 150 ° C)
Pt100 (-100 to + 300 ° C)
Pt1000 (-100 to + 300 ° C)
Digital outputs
2x max. 250 VAC / 5 A / 1250VA
or 33VDC / 5A / 150W
Accumulator
Li-ION 3,7V
Temperature
-20°C to +45°C
Dimensions
52 x 90 x 66 mm without connectors
Weight
174g
Commercial packaging
1

GSM-R5-DIN

 

1
GSM antenna GSM-ANT05S
1
temperature sensor GSM-C-T2 (based on sensor KTY81-210), cable – 1 meter