The same product as GSM-SW-SMSWORK, from which it differs by keeping accents when sending messages.
Order No.:
GSM-SW-SMSWORKPLUS
Retail price
Price on request
Wholesale price
Price on request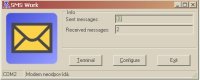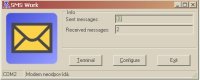 Product description

Technical specification

Support
Product description
The same product as GSM-SW-SMSWORK, from which it differs by keeping accents when sending messages.
Since most of the solutions delivered by our company use SMS messages, we have developed the SMS Work software for mass work with SMS messages. It is a service (daemon) on the computer that communicates with the GSM modem via the selected serial port, using which it receives and sends SMS messages.
To make this program universally applicable, it communicates with the environment using files: it stores received SMS messages in a specified file and, on the contrary, checks in another file whether any messages should be sent. The messages in the files are saved in a simple text format, so that it is possible to easily develop other related applications that will process and generate SMS messages.
For example, using this SMS Work application, we built a company system that allows sending and receiving SMS messages using a regular e-mail client (supporting SMTP and POP3).
This product is suitable for expanding systems with the possibility of working with SMS messages. It is easy to use and, due to the fact that it communicates using common files, it does not require any special knowledge during implementation. It frees the manufacturer of the superior system from the details of working with the GSM network and SMS messages. Details such as logging into the GSM network, maintaining a connection, decoding messages, combining and splitting long messages and other problems no longer need to concern you. To send an SMS, you simply write a line in the file with information about whom to send and what text, and SMS Work will take care of the rest. Receiving messages is just as simple.
How to order?
Download the User Manual and the Installation SW from the "Support" section.
When ordering GSM-SW-SMSWORK, tell us the IMEI of the GSM modem (or module) you will work with.
After payment, we will send you a sw key by email (SMSWORK does not work without it).
Technical specification
| | |
| --- | --- |
| Computer | PC with OS Win2000 and above |
| Modem | almost any modem or phone supporting serial port communication, and commands from GSM07.05 tested with our modems, for example we recommend GSM-BGS5-E2N |
Similar product