SMS WORK (sw for mass work with SMS messages)
Order No.:
GSM-SW-SMSWORK
Retail price
Price on request
Wholesale price
Price on request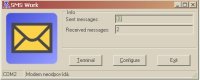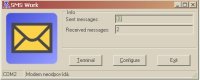 Product description

Technical specification

Support
Product description
SMS WORK is a software, which you can use for sending and receiving messages from and into PC. PC must be connected to GSM modem. The software is protected via software key which is generated on the basic of IMEI of GSM modem connected to PC.
Protože většina řešení dodaných naší firmou používá SMS zprávy, vyvinuli jsme software SMS Work pro hromadnou práci se SMS zprávami. Jedná se o službu ( daemona ) v počítači, která přes zvolený sériový port komunikuje s GSM modemem, pomocí nějž přijímá a odesílá SMS zprávy.
Aby tento program byl všeobecně použitelný, komunikuje s okolím pomocí souborů:přijaté SMS zprávy ukládá do určeného souboru a v jiném souboru naopak zjišťuje, zda-li se nemají nějaké zprávy odeslat. Zprávy v souborech jsou uloženy v jednoduchém textovém formátu tak, aby bylo možno snadno vyvíjet další návazné aplikace, které budou SMS zprávy zpracovávat a generovat.
Například jsme s použitím této aplikace SMS Work jsme postavili firemní systém, který umožňuje pomocí běžného e-mail klienta ( podporujícího SMTP a POP3 ) odesílat a přijímat SMS zprávy.
Tento produkt je vhodný pro rozšíření systémů o možnost práce s SMS zprávy. Je jednoduše použitelný a díky tomu, že komunikuje pomocí běžných souborů nevyžaduje při implementaci žádné speciální znalosti. Osvobozuje výrobce nadřazeného systému od detailů práce s GSM sítí a SMS zprávami. Detaily jako je přihlášení do GSM sítě, udržování spojení, dekódování zpráv, spojování a rozdělování dlouhých zpráv a jiné problémy vás již nemusejí zajímat. Pro odeslání SMS prostě zapíšete do souboru řádek s informacemi komu poslat a jaký text a zbytek obstará SMS Work. Příjem zpráv je stejně jednoduchý.
Jak objednat?
Ze sekce "Podpora" si stáhněte Návod k obsluze a Instalační sw.
Při objednání GSM-SW-SMSWORK nám sdělte IMEI GSM modemu ( nebo modulu ), se kterým budete pracovat.
Po zaplacení vám pošleme emailem sw klíč ( bez něj SMSWORK nepracuje ).
Technical specification
| | |
| --- | --- |
| Computer | PC with OS Win2000 and above |
| Modem | almost any modem or phone supporting serial port communication, and commands from GSM07.05 tested with our modems, for example we recommend GSM-BGS5-T2M |
Similar product